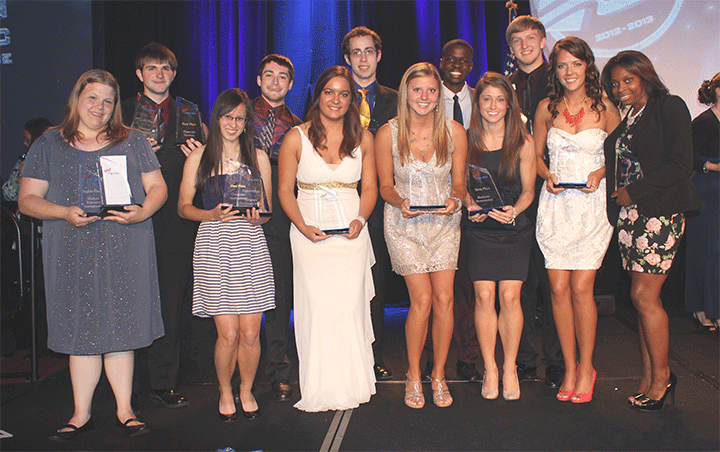 Fourteen University of Nebraska–Lincoln business students earned eleven national awards, including two first place wins, at the Future Business Leaders of America-Phi Beta Lambda (FBLA-PBL) National Leadership Conference June 22-25 in Anaheim, Calif.

Mark Davis, adviser for PBL and academic adviser at the UNL College of Business Administration, says the annual competition is a great way for students to compete, learn and meet new colleagues.

"We focus on bringing business and education together through innovative leadership and career development programs," Davis said. "The competition gives students a chance to improve their business skills in over 50 events, including job interviewing, accounting, computer programming, impromptu speaking, marketing and website development, among others."

The UNL Phi Beta Lambda (PBL) chapter sent 14 students to compete in 25 individual events and eight team events. Students first competed and took top honors at the state competitions in April in order to advance to the national conference.

Individual event award winners include:

--Amy Chin, sophomore economics and political science major from Columbus, Neb. - 1st in Computer Applications
--Daniel Kistler, senior finance and accounting major from Grand Island, Neb. – 4th in Financial Concepts
--Sierra Koehler, sophomore international business and economics major from Minnetonka, Minn. - 6th in Business Presentation
--Tiffany Mewes-Dunn, senior international business and psychology major from Wymore, Neb. - 5th in Justice Administration
--Brandon Staroscik, senior political science and history major from DeWitt, Neb. - 5th in Cyber Security
--Brooke Sullivan, senior management and psychology major from Lincoln, Neb. – 3rd in Computer Applications
--Kevin Thor, junior management, leadership, and communications major from Stanton, Neb. – 8th in Public Speaking

Team event award winners include:

--Kistler and Tyler Wellman, junior finance and accounting major from Syracuse, Neb. - 1st in Financial Services
--Wellman and Chin – 8th in merging Business Issues
--Mewes-Dunn, Sullivan, and Marilyn Buresh, May management graduate from Lincoln, Neb. - 8th in Human Resource Management
--Buresh and Tosha Skinner, junior management major from Hay Springs, Neb. – 9th in Business Ethics

The winners of these highly competitive awards were selected from among FBLA-PBL's membership of 250,000 students and advisers and represent some of the best and brightest of today's emerging leaders. Students also heard nationally recognized speakers and presenters, experienced networking opportunities and attended workshops.

FBLA-PBL is the largest and oldest student business organization in the country. For UNL students interested in building their business professional skills and having many opportunities to network, lead and achieve, visit UNL PBL's website http://www.huskerpbl.org for more information on membership.
More details at: http://www.huskerpbl.org