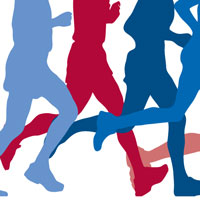 Campus Recreation Wellness is helping to sponsor The Nebraska Academy of Nutrition & Dietetics (NAND) Fuel Up with COLOR 5k Race & 1 Mile Kids Course Challenge. This event promotes activity while encouraging participants to have fun and to support the Food Bank of Lincoln by bringing canned goods to the run. The event is Sept. 28 with the 5k beginning at 8:30 a.m.; 9:30 a.m. for the 1 Mile Kids Course. Event takes place at Holmes Lake Park, Lincoln, NE. The 5K race will be chip timed; 1 mile kids' course will not be timed. All pre-registered runners will receive a t-shirt, swag bag full of healthy food, coupons and recipes, post-race food and drink.
This is the 2nd annual "Fuel Up with Color" 5K race and 1 mile kids' fun run & fitness challenge for NAND. This year's 5K and 1 mile fun run & fitness challenge will be both competitive, for those runners who are actively involved in races, as well as family-focused to promote fitness and healthy eating in Nebraska families while having fun. The 5K race will be a traditional race along a beautiful course at Holmes Lake. Nutrition messages will be scattered along the course to remind you the importance of healthy eating and fueling your bodies with COLOR! The 1 mile kids course will be a "fun run" for kids ages 12 & under that will include 5 physical fitness challenges along the course. Each challenge stop will focus on a different food group. At the end of the race, kids will be given colorful stickers from each of the 5 food groups. By promoting the 5 food groups during the race, we are encouraging all runners to "fuel up with color" from nutritious foods to help lead a healthy life!

5k entry fee: $23- Early Bird Adult ($28 after 9/16) $18- 12 & Younger/Seniors 60 & Over ($23 after 9/16)
1 Mile Fun Run & Fitness Challenge entry fee: $13-12 & Younger ($18 after 9/16)

Online Registration & Payment are available at http://goo.gl/eL6jv. For questions contact Karen Miller: kmiller4@unl.edu or 402-472-0880.

More details at: http://go.unl.edu/0z8