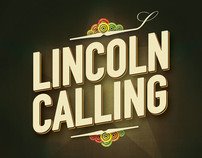 (Lincoln, NE) September 26, 2013 – For the first time in its ten year history, the annual Lincoln Calling Music Festival will visit the campus of the University of Nebraska-Lincoln. The University Program Council (UPC) is proud to sponsor two shows on the Nebraska Union Greenspace on Thursday, October, 17, 2013 and Friday, October 18, 2013 from 4pm to 8pm. Lincoln Calling features 100+ bands and DJs performing at ten different venues in the downtown Lincoln area over five days. Lincoln Calling will include performances of local artists, as well as bands from all over the country and world. This event is open and free to UNL students, faculty and staff, as well as the public.
Featured artists performing on campus include indie rock bands The Kickback and Desert Noises, alternative band Cowboy Indian Bear, and psychedelic, folk band Deer People. Local artists include Orion Wash and the Rambling Hearts, A Ferocious Jungle Cat, Twinsmith, and Freakabout! In addition, dozens more will be performing throughout the city during the festival. For more information pertaining to additional artists and venues, please visit Lincoln Calling's official website http://lincolncalling.com/ or visit their Facebook page at https://www.facebook.com/LincolnCalling.
The University Program Council (UPC) is a student organization that provides diverse, educational and entertaining programs and events to enhance the UNL community. UPC acts as the executive body responsible for the implementation of programs and activities funded by University Programs and Facilities Fees (UPFF).
More details at: http://lincolncalling.com/