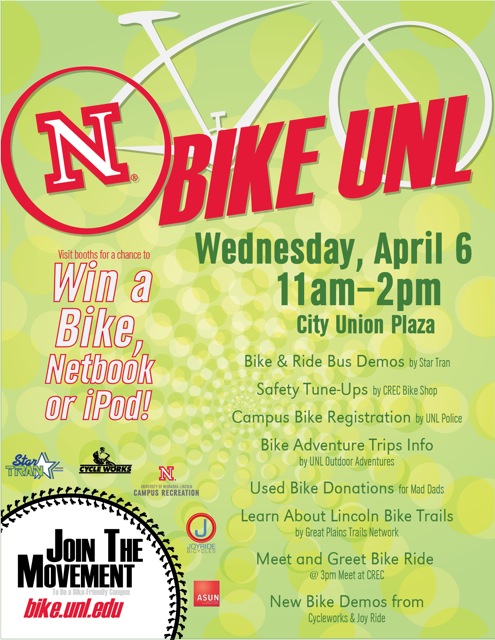 BIKE UNL brings together a variety of local vendors, demonstrations and information to raise awareness about bicycle resources and amenities on campus and around the city of Lincoln. Star Tran will offer demonstrations on how to use the new bus racks installed on city buses and bicycle vendors like Cycle Works and Joyride Bicycles will be on hand to exhibit and demonstrate new bicycles. The Great Plains Trails Network will provide information about Lincoln bike trails and UNL Campus Recreation will offer bike safety check-ups and information about upcoming bike adventure trips. Participants can also sign up for a chance to win prizes, including a Netbook, an iPod, and three new bicycles sponsored by University Bookstore, Cycle Works, and Joyride Bicycles.

Event organizers will also take donations of children's and adult bikes that will be donated to MAD DADS, an organization that supports youth and parents. MAD DADS matches bikes with children of all ages, helps them fix up the bicycles and trains them in bike maintenance and safety.

After the main event, the UNL Bike Shop will lead a meet-and-greet bike ride at 3 p.m. The ride starts and ends at the Campus Rec Center.

BIKE UNL and the bike-friendly campus effort is a partnership among UNL's student government (ASUN), UNL Campus Recreation, the Chancellor's Wellness Initiative and the city of Lincoln. The group is also launching bike.unl.edu, a Web site to compile everything about the campus cycling scene, from rules of the road to maps of city and campus trails. The site will serve as a clearinghouse for information to help promote cycling amongst the University and community.

The League of American Bicyclists (LAB) awards the designation of 'Bicycle Friendly Campus' to colleges and universities that create an exceptional environment for bicycling. This is only the second year the LAB has offered the designation specifically for colleges and universities. In the first year, 32 universities applied and 20 earned the designation. Stanford University topped the list and received a platinum designation, the highest ranking. Among schools in the Big Ten, University of Wisconsin-Madison and University of Minnesota received silver designations and Indiana University and Michigan State University both received bronze designations. ASUN's Bicycle Committee plans to complete the 100-page application for UNL and submit it to LAB in January 2012.


More details at: http://go.unl.edu/hhx