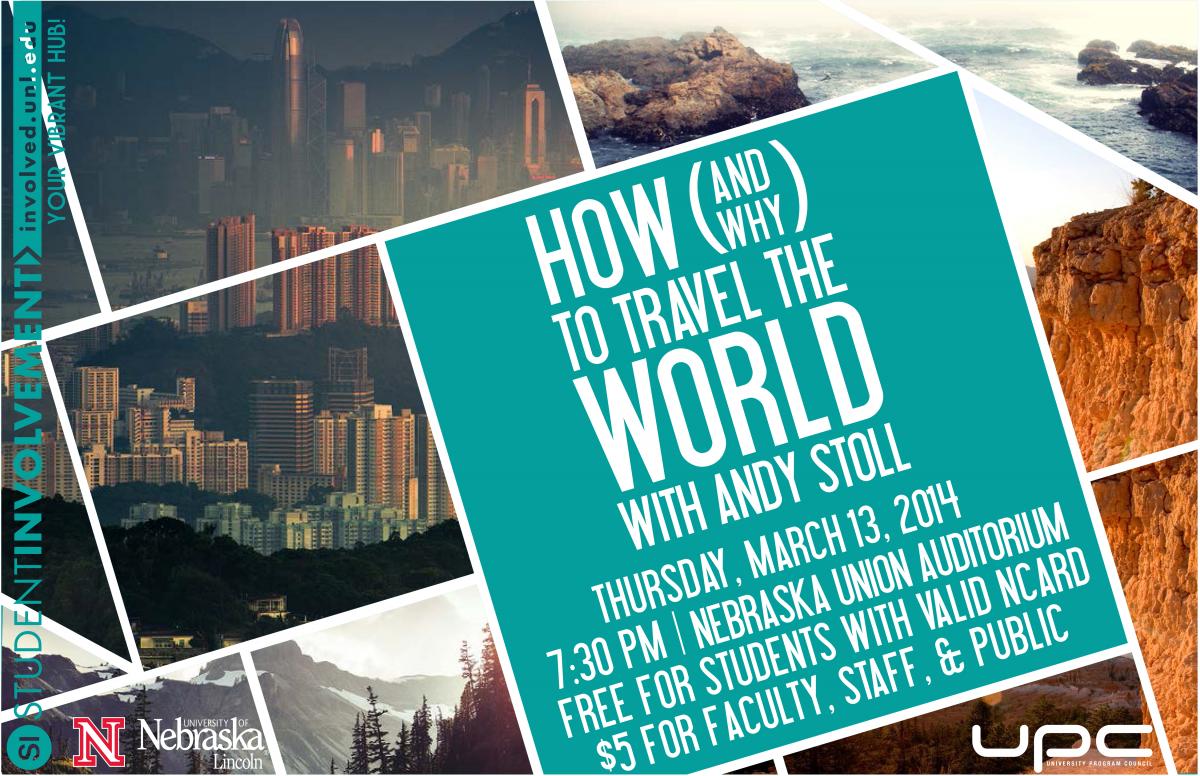 (Lincoln, NE) February 26, 2014 – The University Program Council (UPC) presents "How (and Why) To Travel the World" with Andy Stoll on Thursday, March 13, 2014 at 7:30pm in the Nebraska Union Auditorium. This event will be free for UNL Students with a valid NCard and $5 for Faculty, Staff, and Public.



Shortly after graduation, storyteller and social entrepreneur Andy Stoll embarked on a solo 4-year trip around the world, visiting 40 countries throughout his journey. Along the way, he explored entrepreneurial opportunities and studied communities, education systems, economies, cultures, media industries, and people. Now he spends his time traveling to schools across the country speaking about his experiences and inspiring others to get out and see the world. Some of Stoll's most memorable appearances have been speaking at SXSW and multiple TEDx events. Stoll's message to students is "the distance between who you are and who you want to become is closer than you think." His speech will not only inspire them to embark on their own travels, but will also give them the knowledge and insight into living a life of their own creation.



The University Program Council (UPC) is a student organization that provides diverse, educational and entertaining programs to enhance the UNL community. UPC acts as the executive body responsible for the implementation of programs and activities funded by University Programs and Facilities Fees (UPFF). For more than 75 years, UPC has been providing entertainment for UNL students in the form of films, speakers, concerts and more! For more information, please visit: http://involved.unl.edu/upc or follow UPC Nebraska on Facebook and Twitter.

More details at: http://go.unl.edu/zxuy