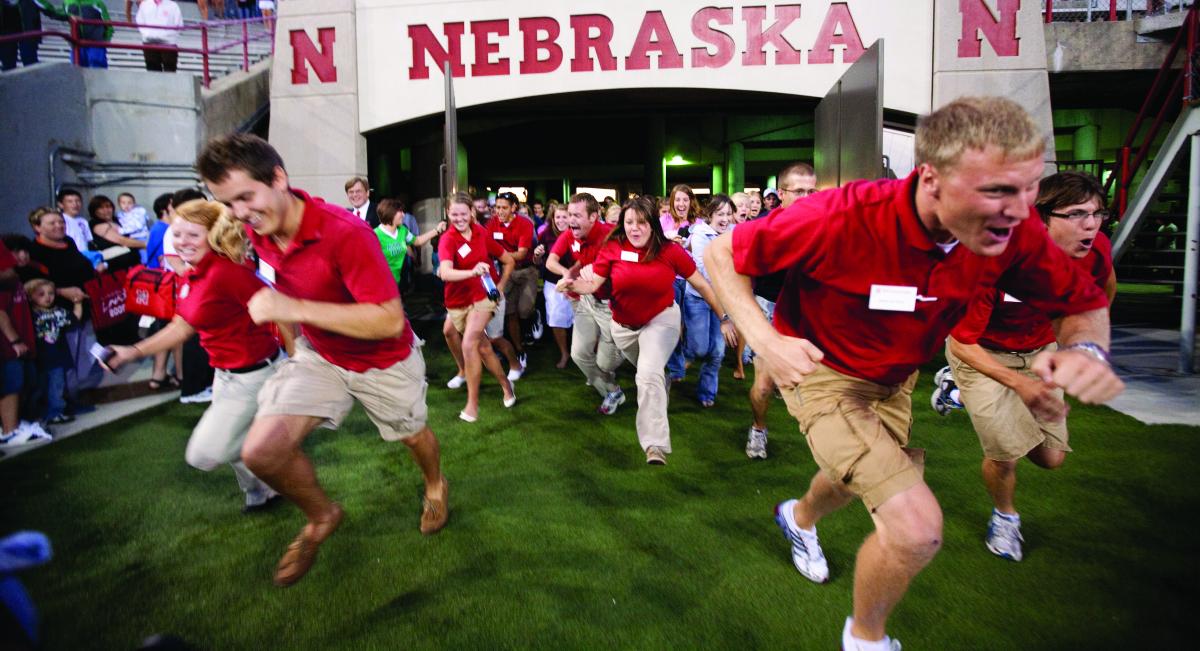 FRIDAY, AUGUST 22
• 11:30 a.m. CASNR Freshman Luau– Hardin Hall
Special Events shuttle bus will start running from the Henzlik Bus Stop at 11:15 am.

• 4:15 p.m. Commuter Student Gathering – Husker Village
Meet orientation leaders between 4:15-4:30. (You may park in the green Commuter lot just south of the Village or, because it is after 3:00 pm, you may also park in the red Faculty lot to the south. If additional parking is needed, go to the Commuter lot west of 14th & Avery Garage.) We will leave at 4:30 to walk to the Convocation at the Devaney together. After the Convocation, dinner will be provided at the dining hall. At 6:45, a session will take place in the Union Auditorium about resources for academic success and how to make the most of your experience as a commuter student. After the formal presentation, we will break into groups to give you the opportunity to meet other commuter students. Finally, we will all go to the Tunnel Walk together!

• 4:30 p.m. Transfer Student Welcome – Nebraska Union
All transfer students are welcome to attend and kick-off their arrival at UNL!

• 5:00 p.m. New Student Convocation – Devaney Center
All new students are encouraged to attend this annual tradition to be officially welcomed to the University and their academic career by featured speaker Chancellor Harvey Perlman.

• 7:00 p.m. The Cornhusker Marching Band Exhibition – Memorial Stadium

• 8:30 p.m. Tunnel Walk – Memorial Stadium

• 9:10 p.m. Pep Rally – Memorial Stadium
Cheer on the Big Red Machine as Husker football and volleyball players give a sneak preview of their new seasons. The Scarlets and Cheer Squad will electrify the atmosphere and lead key Nebraska chants and fight songs.

• 9:00 p.m. Husker Mania – Campus Rec Center
Join us immediately following the Tunnel Walk to enjoy free food, entertainment, games, and prizes in the Campus Rec Center. Celebrate your campus arrival with Lincoln businesses, campus organizations & clubs, UNL Intramural Sports, Outdoor Adventures, Raising Cane's Chicken Fingers, Topper's Pizza, Firehouse Subs, Pepsi, UNL Computer & Phone Store, Fitness & Wellness, and over 30 sport clubs.
More details at: http://go.unl.edu/dyav