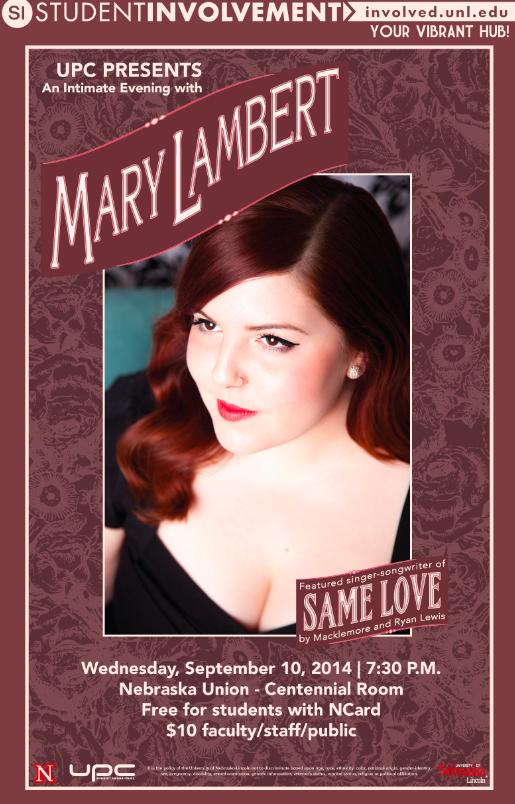 The University Program Council (UPC) presents, "An Intimate Evening with Mary Lambert" on Wednesday, September 10, 2014 at 7:30pm in the Nebraska Union Centennial Room. This event will be free for UNL Students with a valid NCard and $10 for Faculty, Staff, and Public.

Known for her emotional and visceral songwriting, Mary Lambert is a Grammy nominated singer/songwriter and spoken word artist from Seattle. Mary's career as a solo artist has continued to gain tremendous momentum after she found her start singing the hook on Macklemore and Ryan Lewis' double platinum song, "Same Love." She recently performed with Madonna on the Grammys, and her solo single, "She Keeps Me Warm" debuted at number two on the iTunes singer/songwriter chart. Also an award winning spoken-word artist, she published her first book of poetry in January of 2013. Lambert isn't your typical major-label pop artist. Inspired by confessional folk singers as well as spoken-word performers, she is a candid writer who deals directly in her art with a variety of past experiences. Because Lambert wants her art to lift people up, not take them down, she balances her presentation with healthy doses of humor, and in conversation, is known to be upbeat, funny, and engaging. Striving to connect with people from all walks of life, Mary Lambert takes her audience on an emotional journey that makes her performances truly unforgettable.

The University Program Council (UPC) is a student organization that provides diverse, educational and entertaining programs to enhance the UNL community. UPC acts as the executive body responsible for the implementation of programs and activities funded by University Programs and Facilities Fees (UPFF). For more than 75 years, UPC has been providing entertainment for UNL students in the form of films, speakers, concerts and more! For more information, please visit: http://involved.unl.edu/upc or follow UPC Nebraska on Facebook and Twitter.
More details at: http://go.unl.edu/zz4i