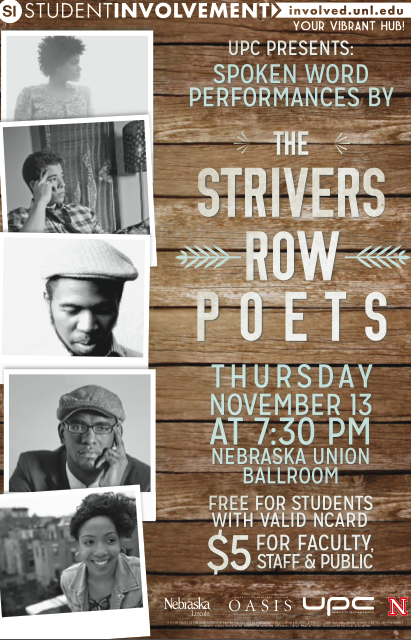 The University Program Council (UPC) and OASIS (Office of Academic Success and Intercultural Services) present, "Spoken Word Performances by the Strivers Row Poets" on Thursday, November 13, 2014 at 7:30pm in the Nebraska Union Ballroom. This event will be free for UNL Students with a valid NCard and $5 for Faculty, Staff and Public.

The Strivers Row Poets are a group of young, vibrant, and talented individuals from across the Northeast. In addition to being poets and artists, the members of Strivers Row are also scholars, many of whom have graduated from prestigious universities such as Yale and Princeton. Several are currently working towards PhDs in English or areas pertaining to current social issues.

These spoken word artists will make a big impression on their audience. The poets speak individually and as a group, using conventional and unconventional performance styles that incorporate both drama and music. They have toured the country, bringing stories of racial discrimination, homophobia, and poverty forward with their hard-hitting poetic style to a wide variety of audiences, including the Sundance Film Festival and the White House.

The University Program Council (UPC) is a student organization that provides diverse, educational and entertaining programs to enhance the UNL community. UPC acts as the executive body responsible for the implementation of programs and activities funded by University Programs and Facilities Fees (UPFF). For more than 75 years, UPC has been providing entertainment for UNL students in the form of films, speakers, concerts and more! For more information, please visit: http://involved.unl.edu/upc or follow UPC Nebraska on Facebook and Twitter.
More details at: http://go.unl.edu/isp6