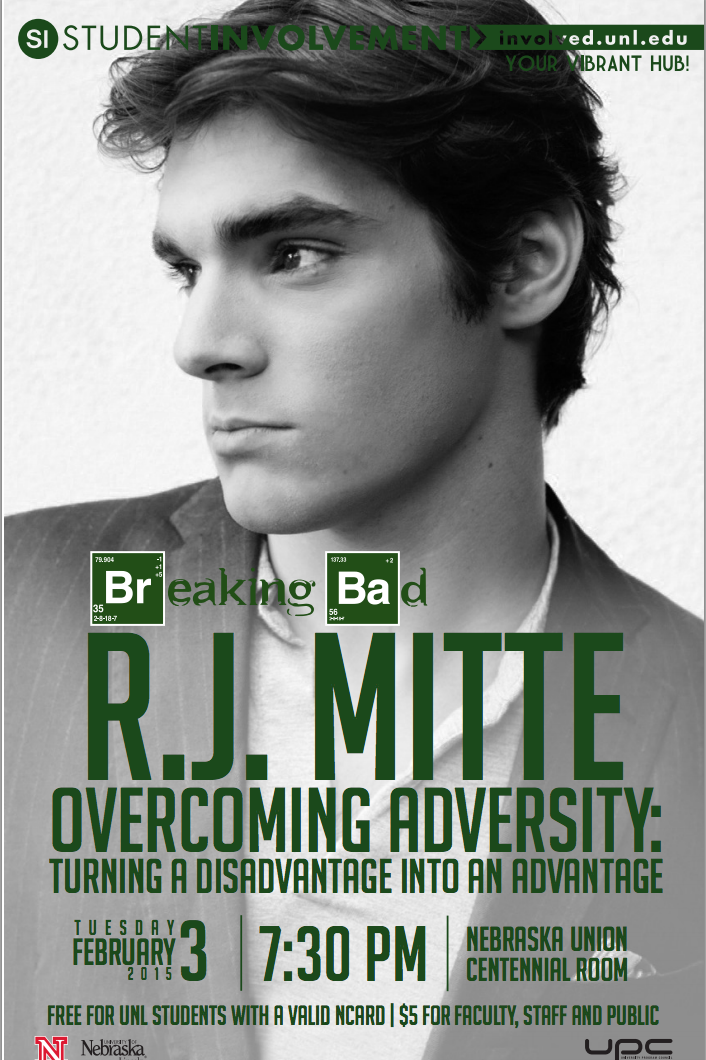 UPC presents Breaking Bad's R.J. Mitte, [Overcoming Adversity: Turning a Disadvantage into an Advantage] on Tuesday, February 3, 2015 at 7:30pm in the Nebraska Union Centennial Room. This event will be free for UNL Students with a valid NCard and $5 for Faculty, Staff, and Public.

R.J. Mitte is best known for his role as Walter "Flynn" White Jr. on the AMC series Breaking Bad. Like his character on the show, he has mild cerebral palsy. He was diagnosed at the age of three, and doctors put his legs in casts for six months in an attempt to straighten his feet. After receiving several roles as an extra, including in the Disney series, Hannah Montana, Mitte became interested in films and decided to take acting lessons. At the 2013 Media Access Awards, Mitte received the SAG-AFTRA Harold Russell Award for his portrayal of Walter White, Jr. on Breaking Bad. Mitte is a spokesperson for the organization, I AM PWD, which stands for Inclusion in the Arts & Media of People with Disabilities. He stays busy with appearances and events that bring attention to the lack of inclusion in media of people with disabilities. While there are an estimated 56 million Americans with disabilities, only a fraction of characters in entertainment are shown with disabilities.

The University Program Council (UPC) is a student organization that provides diverse, educational and entertaining programs to enhance the UNL community. UPC acts as the executive body responsible for the implementation of programs and activities funded by University Programs and Facilities Fees (UPFF). For more than 75 years, UPC has been providing entertainment for UNL students in the form of films, speakers, concerts and more! For more information, please visit: http://involved.unl.edu/upc or follow UPC Nebraska on Facebook and Twitter.