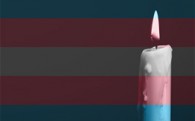 Transgender Day of Remembrance, on November 20th, is a day to memorialize all those lost to anti-transgender violence, and to advocate against continued violence against the trans community. The LGBTQA+ Resource Center has two events commemorating this day.

Transgender Awareness - A presentation about transgender history, identities, rights, and policies. Held from 12:00 - 2:00 PM in the Nebraska Union. Lunch will be provided to those who RSVP, please do so by contacting lgbtqa.library@unl.edu.

Transgender Day of Remembrance Vigil - A vigil in memory of trans people lost to transphobic assaults. We will be meeting at 7:00 PM in the Nebraska Union Colonial A. Cosponsored with the Nebraska Trans Community Group.

There will also been a showing and discussion of the film "Milk" on November 20 as part of the Queer Film Fridays series. From 4:00 - 6:00 PM at the LGBTQA+ Resource Center in room 346 in the Nebraska Union.
More details at: http://go.unl.edu/4dam