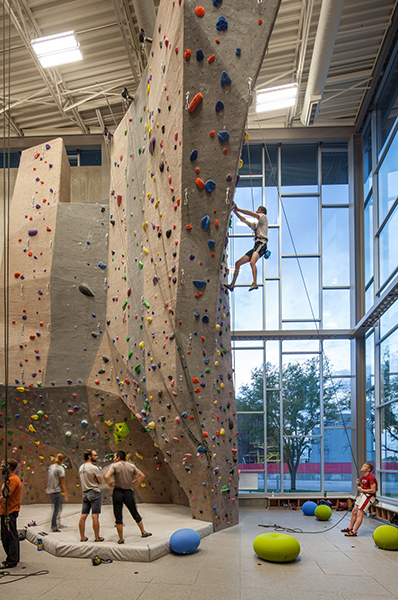 UNL students paying student fees are able to use the Outdoor Adventures Center climbing gym at no charge. Students must simply complete a Climbing Basics class to activate their pass and learn the foundations of climbing. The class is offered on an ongoing basis each weekday from 5 to 7 p.m. and Sundays 3 to 5 p.m. Cost is $20 and upon passing the skills check provides a one-year Climbing Pass. Climbing Basics classes are held at the state-of-the-art Outdoor Adventures Center, featuring a 3-story indoor climbing gym and bouldering wall.

Outdoor Adventures also offers several special climbing events, advanced climbing classes and competitions throughout the semester, including:

• Family Climb
2nd Saturdays | 10 a.m.–Noon
$40 UNL student or Member Family | $85 General Public Family

• Adaptive Climbing Club
4th Saturdays | 10 a.m.–1 p.m.
FREE UNL student, Member or General Public

• League of Extraordinary Boulderers (LXB)
Thurs. | Jan. 21–Feb. 11 | 8-10 p.m.
FREE UNL student or Member | $15 General Public

Get your team of three together and join the fun. All skill levels can participate in a weekly bouldering league where you can hone your skills or just have a good time. We do keep scores and prizes are awarded to the top teams at the end of the league.

• Lead Climbing
Tues. & Thurs. | Jan. 26 & 28 | 7–9 p.m.
Mon. & Wedn. | Feb. 15 & 17 | 7–9 p.m.
Tues. & Thurs. | Mar. 8 & 10 | 7–9 p.m.
Mon. & Wedn. | Apr. 4 & 6 | 7–9 p.m.

This class meets two times for two hours with you and a partner and teaches foundational skills needed to dial in lead climbing and lead belaying at the climbing wall. Prior top rope climbing experience at or above 5.9 is required to succeed in this class. Completion of class provides a one-year Lead, Top Rope & Bouldering Pass.

• From Couch to 5.10
Tues. | Feb. 9–Mar. 1 | 7–9 p.m.

This 4-week class will give you tools to develop your strength in order for you to climb longer and more efficiently. Each week, you will advance your technique using various exercises and drills, as well as address various ways to train and build your climbing fitness. Class includes free climbing shoe and chalk bag rental. Both beginners and regular climbers are encouraged to attend.

• From Gym to Crag
Self Rescue: Tues. & Thurs | Feb. 23 & 25 | 7–9 p.m.
Sport Anchors: Tues. & Thurs | Apr. 12 & 14 | 5:30–8 p.m.

Each session meets two times for two hours and will help you form foundational understanding and skills associated with various climbing techniques. While completion of these sessions won't get you set to climb El Cap, it will give you a better grasp on key climbing skills. Participants must possess a current Lead Climb Pass at the UNL Outdoor Adventures Center and should have at least one year of climbing experience.

For more information or to register, visit the link below or the Outdoor Adventures Center.
More details at: http://go.unl.edu/bfxj