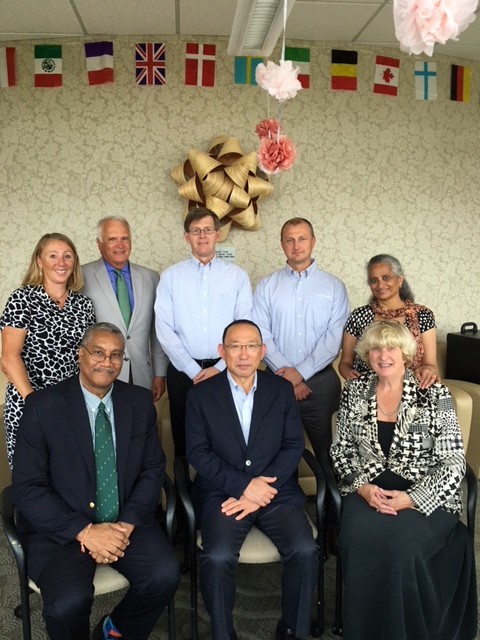 Harriet Turner, cofounder and ongoing supporter of the Kawasaki Reading Room, has donated a piece of art to honor both the memory of cofounder Ryoko Sasaki and the generosity of Kawasaki Motors, U.S.A.

Turner, Emeritus Professor in the Department of Modern Languages and Literatures, worked closely with Sasaki and Takehiko Saeki, the former president of Kawasaki Motors U.S.A., to start the room more than 20 years ago. Sasaki became the room's first director.

The Kawasaki Reading Room is a center for Japanese studies that facilitates language learning and cultural understanding. Located in the Jackie Gaughan Multicultural Center, it houses a library of books and periodicals and hosts speakers, workshops, and outreach events.

The artwork is by her daughter, Sarah Turner.

Harriet Turner celebrated the installation of the art at a lunch reception attended by Matt Kurushima, President of Kawasaki Motors US.A.; Joseph S. Francisco, dean of the College of Arts and Sciences; and others from the University of Nebraska-Lincoln and Kawasaki Motors.

Photos courtesy Joanna Nordhues. Above photo, back row: Kaye Jesske, Thomas Farrell, Mike Boyle, Jason Hellbusch, Radha Balasubramanian. Front row: Dean Joseph S. Francisco, President Matt Kurushima, Harriet Turner.
More details at: http://modlang.unl.edu/kawasaki-reading-room