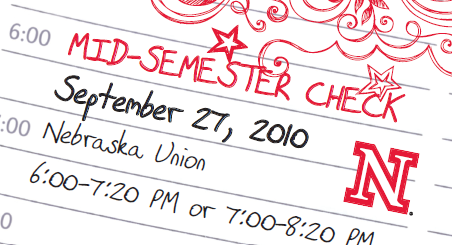 Mid-Semester Check will be held Sept. 27-30 in the Nebraska Union. Two sessions will begin each night at 6 and 7 p.m., respectively. Both sessions run for 90 minutes and feature faculty sessions and an overview on being successful in college. Freshmen and transfer students are expected to attend.

Here is a sampler of the sessions hosted by faculty:

Research - Just Do It!
Financial Planning
Academic Success
Academic Opportunities & Support
Preparing for Professional Schools
The Big Paper Part 1
Finding a Major Right for Me
Study Abroad? Me?

Please contact New Student Enrollment at 472-4646 with questions or concerns.


More details at: http://go.unl.edu/dn8