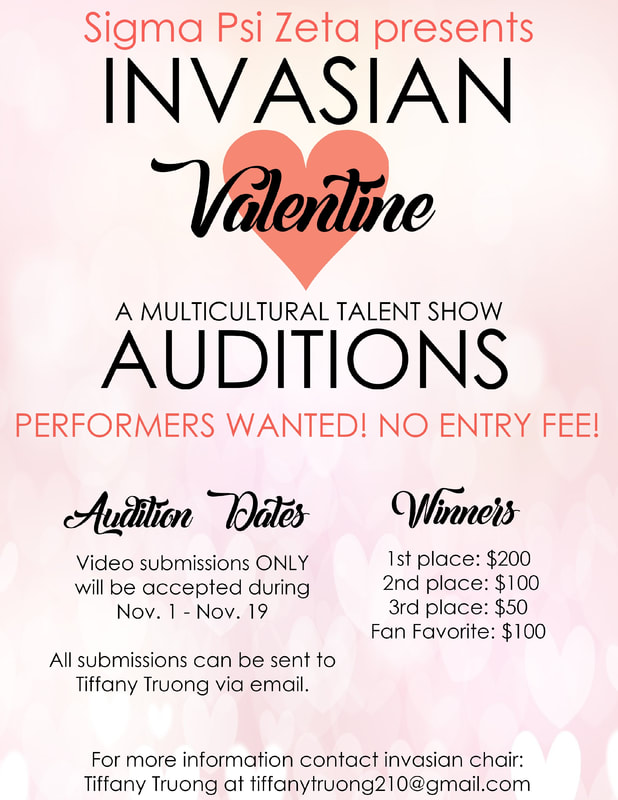 The ladies of Sigma Psi Zeta Sorority, Inc. would like to invite you to our annual InvAsian talent show (THIS EVENT INCLUDES DINNER)! This is your chance to showcase your individuality and culture, ANY AND ALL CULTURES, and of course be named the best in Lincoln! Please fill out the audition form below if you are interested in participating in the talent show. Both individuals and teams are allowed to participate.

Audition Application (no fees):
https://docs.google.com/forms/d/e/1FAIpQLSetw0D_AmP3BCgjQytYAXUye-STJfd0_pgNA6C7Bz1BsjuGOg/viewform

The Actual Event Date is Saturday, February 10th, 2018 @ 5 PM in the City Campus Union - Centennial Room.

Fill out the application (listed above) and email your video auditions to InvAsian chair, Tiffany Truong, at tiffanytruong210@gmail.com.

***$450 worth of talent show prizes!***

Audition Sign-Up Deadline: Sunday, November 19th at 11:59 PM.
More details at: https://syzxi.weebly.com/events