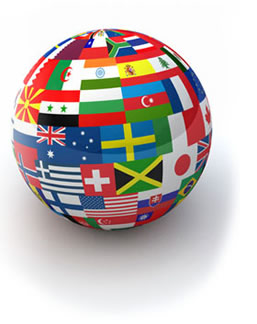 In observance of International Education Week, the University of Nebraska-Lincoln, in cooperation with the office of International Affairs, is promoting international education through the events listed below. All students and the University community are invited to Come join in the celebration. For more information call (402) 472-5358 or click the Web link.

• MONDAY, NOV. 14
International Scholar Luncheon (BY INVITATION ONLY)
Nebraska East Union
12 to 1:30 p.mm.

Traditional Irish Dancing Performance and Instruction with Former Riverdance Professional, Marty Dowds
Nebraska Union Ballroom
4 to 5 p.m.

• TUESDAY, NOV. 15
Intensive English Program Conversation Club
Jackie Gaughan Multicultural Center
Kawasaki Reading Room (3rd floor)
3 to 4 p.m.

Going Global: Gaining Experience in the U.S. and Abroad – presented by UNL Career Services
Nebraska East Union
4 to 5 p.m.

• WEDBNESDAY, NOV. 16
International Food Bazaar
- presented by International Student Fellowship
Nebraska Union
11 a.m. to 2 p.m.

Wiebers Scholarship Presentation
Nebraska Union
3 to 4 p.m.

Institute for Ethnic Studies Colloquium
"19th Century Mexico and Its Legacy"
Bailey Library in Andrews Hall – City Campus
3:30 to 5 p.m.

Going Global: Gaining Experience in the U.S. and Abroad – presented by UNL Career Services
Nebraska Union
4 to 5 p.m.

• THURSDAY, NOV. 17
Russian Club Lecture:
"Soul of a Nation in the Artist in the USSR"
College of Business Administration, room 206
6 p.m.

Geography Bowl
Hardin Hall Auditorium – East Campus
6:30 to 9:30 p.m.

**********

A joint initiative of the U.S. Departments of State and Education, International Education Week (IEW) was first held in 2000 and today, is celebrated in more than 100 countries worldwide. IEW is an opportunity to celebrate the benefits of international education and and exchange worldwide.

This annual initiative aims to promote international understanding and build support for international educational exchange by encouraging the development of programs that prepare Americans to live and work in a global environment and attract future leaders from abroad to study in the United States. Exchanges are critical to developing mutual understanding and respect, building leadership abroad, fostering an appreciation for the U.S., and investing in the future relationship between Americans and people around the world.
According to Open Doors, 260,327 U.S. students studied abroad in 2008/09.

International education prepares U.S. citizens to live, work, and compete in the global economy.
International education is also a vital service industry, bringing more than $20 billion into the U.S. economy in 2009/10.

According to Open Doors, 690,923 international students studied in the U.S. in 2009/10.
The more than 40,000 students, scholars and other exchange participants that the Department of State's Bureau of Educational and Cultural Affairs supports are in the vanguard of the hundreds of thousands of students and scholars who come to the United States and study abroad each year.

International cooperation on education contributes to education reform and education solutions for the U.S. and for our partner nations.
More details at: http://go.unl.edu/o5d