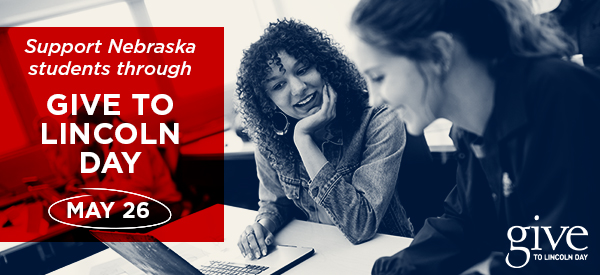 You can help expand students' access to mental health resources.
Gifts to the University of Nebraska Foundation on Give to Lincoln Day will support the university's student care and well-being fund.

Make a Gift

The need for mental health support has never been higher on college campuses. The number of students seeking counseling help from Counseling & Psychological Services in 2020-2021 was 25% higher than the prior year. Crisis appointments also more than doubled.

You can help make it possible to provide immediate access to services and reduce potential barriers for students who might otherwise not seek help.

Through programs like Counselors-in-Residence, students benefit from the convenience of counselors being co-located within housing complexes where students naturally gather. As we seek to expand this program to offer counseling services within colleges, your gift will increase access to critical mental health support for students.

Your gift will help make resources available for students navigating personal challenges while pursuing their academic goals. Please act now by making a gift today.

Give to Lincoln Day, coordinated by Lincoln Community Foundation, is a time when partners are asked to make a donation toward the organizations that are critical to the care, support and spirit of the capital city.