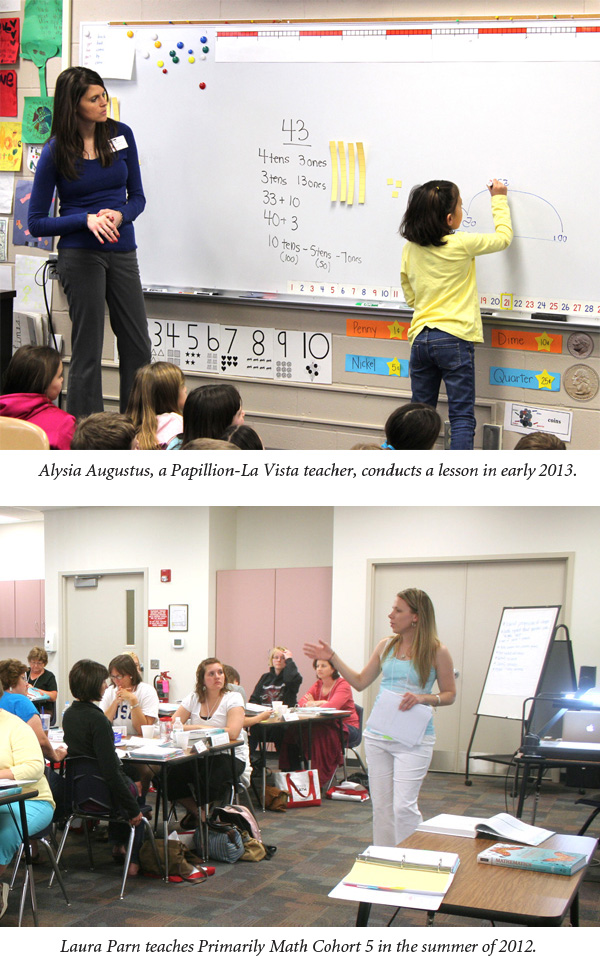 Two teachers affiliated with Primarily Math have won the prestigious Presidential Award for Excellence in Mathematics and Science Teaching: Alysia Augustus and Laura Parn.

Alysia Augustus, a Papillion-La Vista teacher from Primarily Math Cohort 2, was named as one of Nebraska's two winners of the PAEMST, announced on Dec. 20, 2013. Augustus is in her seventh year of teaching. She welcomed her first child in 2013 as well, Brooks Christian on Nov. 25.

Laura Parn, a Math in the Middle graduate and Primarily Math instructor, also won the award for Missouri. In 2011, Parn moved from Lincoln, where she served as a math coach, to Wentzville, Mo. Parn taught fourth grade for two years before becoming an assistant principal. She is now the mother of three little ones as baby Ellie Faith, who was born on Jan. 9, 2014, joins twin siblings.

Augustus and Parn will receive their awards at a Washington, D.C., event in the coming year.

Each year the award alternates between teachers teaching kindergarten through 6th grade and those teaching 7th through 12th grades. The 2012 awardees named in December teach kindergarten through 6th grade.

Winners of this Presidential honor receive a $10,000 award from the National Science Foundation to be used at their discretion.