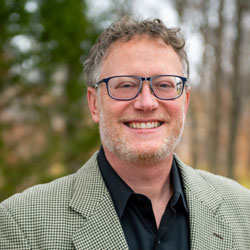 SNR Alumni Dr. Clay Nielsen is part of the 2023 Alumni Master Week program, March 22-24, 2023.

Dr. Nielsen is Professor of Wildlife Ecology and Conservation in the Forestry Program and Cooperative Wildlife Research Laboratory at Southern Illinois University in Carbondale, Ill. He has devoted much of his career to research and teaching in the area of wildlife conservation, having conducted studies on dozens of species on four continents. In 2014, he was presented the Outstanding Scholar Award in the College of Agricultural Sciences at SIU.

After earning his undergraduate degree from Nebraska, Dr. Nielsen earned a master's degree from the State University of New York and his Ph.D. in Zoology from SIU in 2001. He has published more than 250 scholarly works, given nearly 700 lectures and presentations and had his research showcased by TIME Magazine, the BBC, and National Geographic magazine, among others.

Alumni Masters is a program sponsored by the Nebraska Alumni Association, the Student Alumni Association, and the UNL Chancellor's Office.

Outstanding alumni return to campus to share their experiences and knowledge with students. All students are encouraged to take part in lectures, presentations and events with the Alumni Masters, who will speak about ways to apply formal education to working situations and career goals.

The 2023 Masters will share their experiences and knowledge with students at the Meet the Masters dinner on Thursday, March 23 at 5:30 pm at the Wick Alumni Center. This event is free for students to attend, and it is a great opportunity to network with those who have mastered their fields!

Students can register for the dinner now by following the link below. Dinner will be provided, and the attire is business casual.
More details at: https://go.unl.edu/cx40