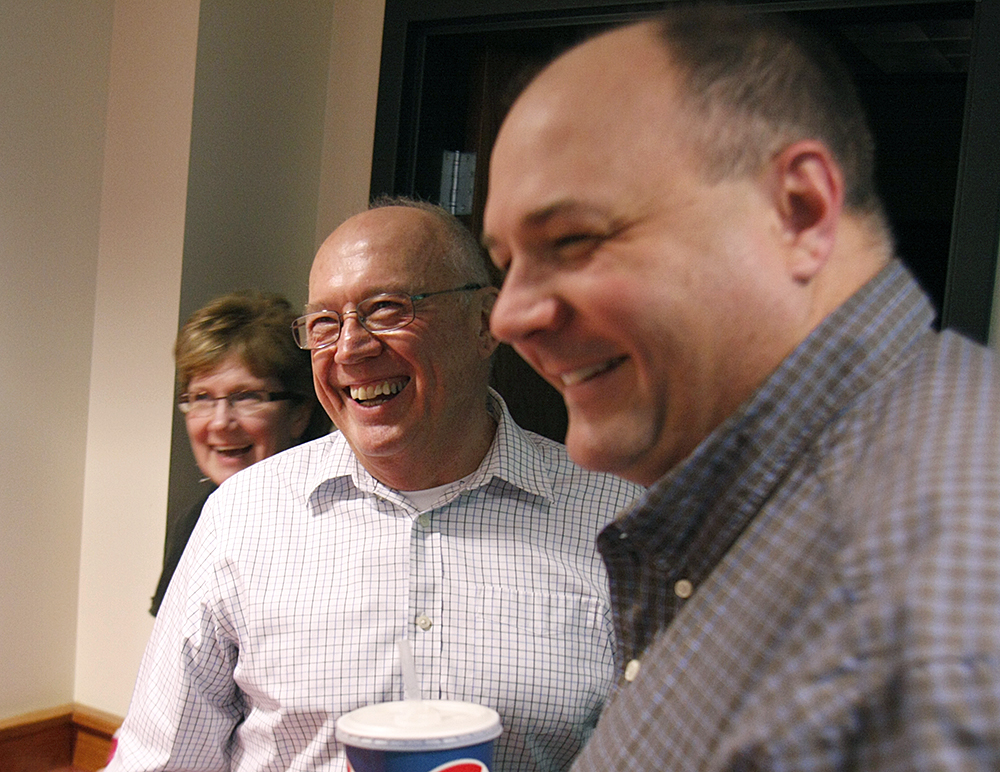 Don Rundquist was prepared for questions following his afternoon seminar Nov. 12, not the ambush sprung by Art Zygielbaum, adjunct associate professor specializing in remote sensing at UNL's School of Natural Resources.

Moments after Rundquist finished his remarks reflecting on "40 Years of Remote Sensing in Nebraska," Zygielbaum rose for a short presentation of his own: A presentation honoring Rundquist's dedicated service to UNL.

Rundquist, who is expected to retire with emeriti status this year, began his career while still a graduate student at UNL when the Nebraska Remote Sensing Center was created in 1972. By 1986 the facility was renamed to the Center for Advanced Land Management Information Technologies (CALMIT) and he was its director. He ushered the center through a series of innovations and transitions that included early adoption and adaptation of cutting edge technologies, and recruiting and training some of the most prominent experts in the field.

During his tenure as CALMIT director, the center expanded to mount sensors on mobile platforms such as boats and re-purposed farming equipment. In 2000, he even added a Piper Saratoga airplane to the arsenal.

"I never thought we'd get funding to buy an airplane," he said during his lecture, "but we did."

Through Rundquist's leadership, CALMIT developed the ability not only to make sophisticated field observations from satellites, aircraft or handheld instruments, but also perform high-level laboratory testing that helped make those observations practical for real-world applications. That unique blend of abilities gave CALMIT and UNL global prominence in the remote sensing field.

Before the more than 50 people that filled Hardin Hall's ninth floor conference room, Zygielbaum presented Rundquist with a framed photo collage of friends, colleagues and students from decades of work at UNL. Zygielbaum also read excerpts of letters from former students and colleagues that noted Rundquist's accomplishments and influence.

Once Zygielbaum concluded his remarks, Rundquist deflected any credit for the high praise.

"I didn't do what what's been done," Rundquist told the crowd. "It was all these people."

Tala Awada, interim director of the School of Natural Resources, also presented Rundquist an engraved, decorative clock that read, in part, "Your friends, students, and colleagues recognize your many years of friendship, intellectual leadership, scientific achievement and commitment. You enabled the success of so many, and we are grateful."