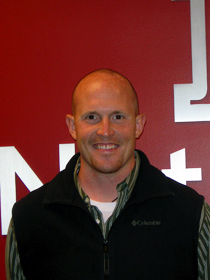 When Brian Baskerville received a very brief letter from Gamma Theta Upsilon (GTU), the international geography honor society, he thought for sure it was a "sorry, you were not selected" note. He almost left it unopened.

Brian did open that letter on his walk back to his apartment and he's very glad he did. The selection committee, headed by Dr. Montz of East Carolina University, was writing to notify him that he was the latest recipient of the Buzzard Graduate Scholarship. The scholarship was named after GTU founder, Dr. Robert G. Buzzard, and is given to one graduate student annually who shows contributions to their GTU chapter and their department. Brian becomes only the second University of Nebraska-Lincoln student to receive this scholarship, Nataliya Lys received the undergraduate award in 2007.

Brian came to the University after serving two years in the Peace Corps, he immediately became secretary of the Geography Student Organization (GSO). In 2012, after seven months of active participation, he initiated into the Alpha Phi Chapter of Gamma Theta Upsilon (GTU) and was elected president of both organizations, a position he's held for the past year. During his time as president, he worked tirelessly with the executive board to provide a quality experience for all GTU and GSO members as well as increase Geography's exposure on campus. Their accomplishments include hosting Geography education booths at five university fairs, facilitating Geography exhibits at the State Museum's annual NaturePalooza and December 2012's Sunday with a Scientist, began a monthly geography video series for students and the general public, facilitated the National Geographic GeoBee for the Lincoln Area Homeschool Association, developed a "Where's the Weather" exhibit for the school's annual Weatherfest, and hosted Distinguished Professor of Geography, Dr. Charles Gritzner for a special seminar on the nature of Geography.

When asked why Geography Brian says "because of its ability to take isolated bits of information and put them into a framework for understanding how the world works - what I believe to be the enduring mission of Geography". His long term goal is to use the skills he's learned here and put them to work as an officer in the U.S. Foreign Service because understanding Geography is imperative to diplomacy.
More details at: http://go.unl.edu/0pw