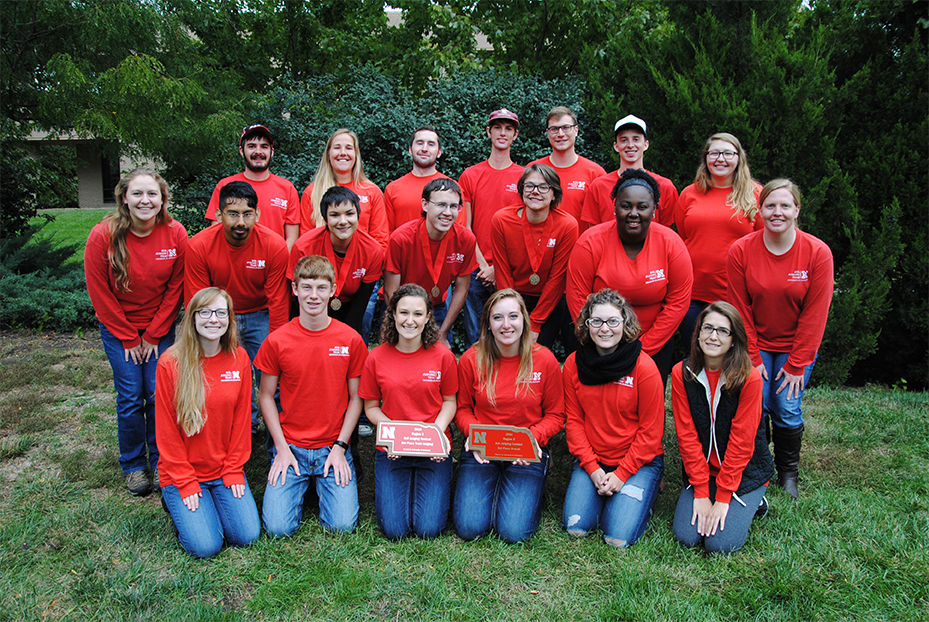 The University of Nebraska-Lincoln team, comprised of students from the School of Natural Resources and the Department of Agronomy and Horticulture, will appear in the 2017 National Collegiate Soil Judging Contest following a third-place finish at regionals on Oct. 13 at Pawnee State Recreation Area, just west of Lincoln.

Sixty-seven students from six colleges - Iowa State University, Kansas State University, University of Minnesota, South Dakota State University, Southwestern Missouri State University, and Nebraska - participated in the competition where they had to correctly identify, evaluate, classify and describe four soil profiles in various soil pits.

Finals will be April 23 to 28 in DeKalb, Illinois, and will be hosted by Northern Illinois University.

Collegiate soil judging originated in the southeastern United States in 1956 and began in the Midwest in 1958 with a contest hosted by Kansas State University. Today, the American Society of Agronomy organizes the contests and more than 40 universities from seven regions participate. Region 5 includes universities from Iowa, Kansas, Minnesota, Missouri, Nebraska, North Dakota and South Dakota.

At UNL, team members take a one-credit hour class. This year, the team earned third place overall, and three SNR students placed in the top 10 in the individual competition. They were:


Fifth place: Sam Wilton, senior geology and water science major;

Sixth place: Laura LeCuyer, sophomore environmental restoration science major;

Eighth place: Dani Jones, senior environmental studies major.


NET Nebraska provided in-depth coverage of the event, including video, audio and print interviews, and photographs.

"If you look at soils sometimes you feel like, oh that's just dirt. Now I'm learning, okay that's not just dirt, it's soil," SNR's Ashley Nassar told NET News reporter Ariana Brocious for the story. From the soil pit, Nassar explained what students were looking for, "Does this have enough clay or does this have enough sand, to determine is it like a silty clay or a silty clay loam? There's just so many different things that you have to do with your hands, just with your hands, to try to figure out what kind of soil it is."

What type of soil it is determines a lot about what people can do with it: farm it, build on it, leave it untouched.

"That knowledge is especially important in these Midwestern and Plains states, which devote so much land to agriculture," Brocious wrote. "The contest changes location every year. In the days preceding the contest, all the students visited several different pits in the area to practice and learn about regional soil differences."

Coach Rebecca Young, SNR lecturer; and assistant coaches Rachel Stevens, mechanized systems management graduate student, and Jake Ziggafoos, agronomy graduate student, took them there and helped them prep for the competition.

UNL Soil Judging Team members were:


Ali Creeger, senior environmental restoration science and environmental studies major

Will Davidson, senior environmental restoration science major

Autumn Dunn, senior environmental restoration science, fisheries and wildlife, and grassland ecology and management major

Rodger Farr, sophomore agronomy major

Kolby Grint, junior agronomy major

Dani Jones, senior environmental studies major

Laura LeCuyer, sophomore environmental restoration science major

Nikki Musgrave, junior environmental studies and geology major

Ashley Nassar, senior environmental restoration science major

Bryan Petersen, freshman applied climate science major

David Rodriguez, senior environmental restoration science and water science major

Adam Romans, senior environmental restoration science major

Jenna Schweiss, senior fisheries and wildlife major

Samantha Teten, junior agronomy major

Sam Wilton, senior geology and water science major

Anna Wistrom, junior environmental restoration science major

Haley Zabel, junior agricultural education and cooperative education major


Read the complete NET story, hear the radio clip and
watch their video at http://bit.ly/2eO8305.

- Shawna Richter-Ryerson; Natural Resources news archives contributed to this report.

More details at: http://snr.unl.edu