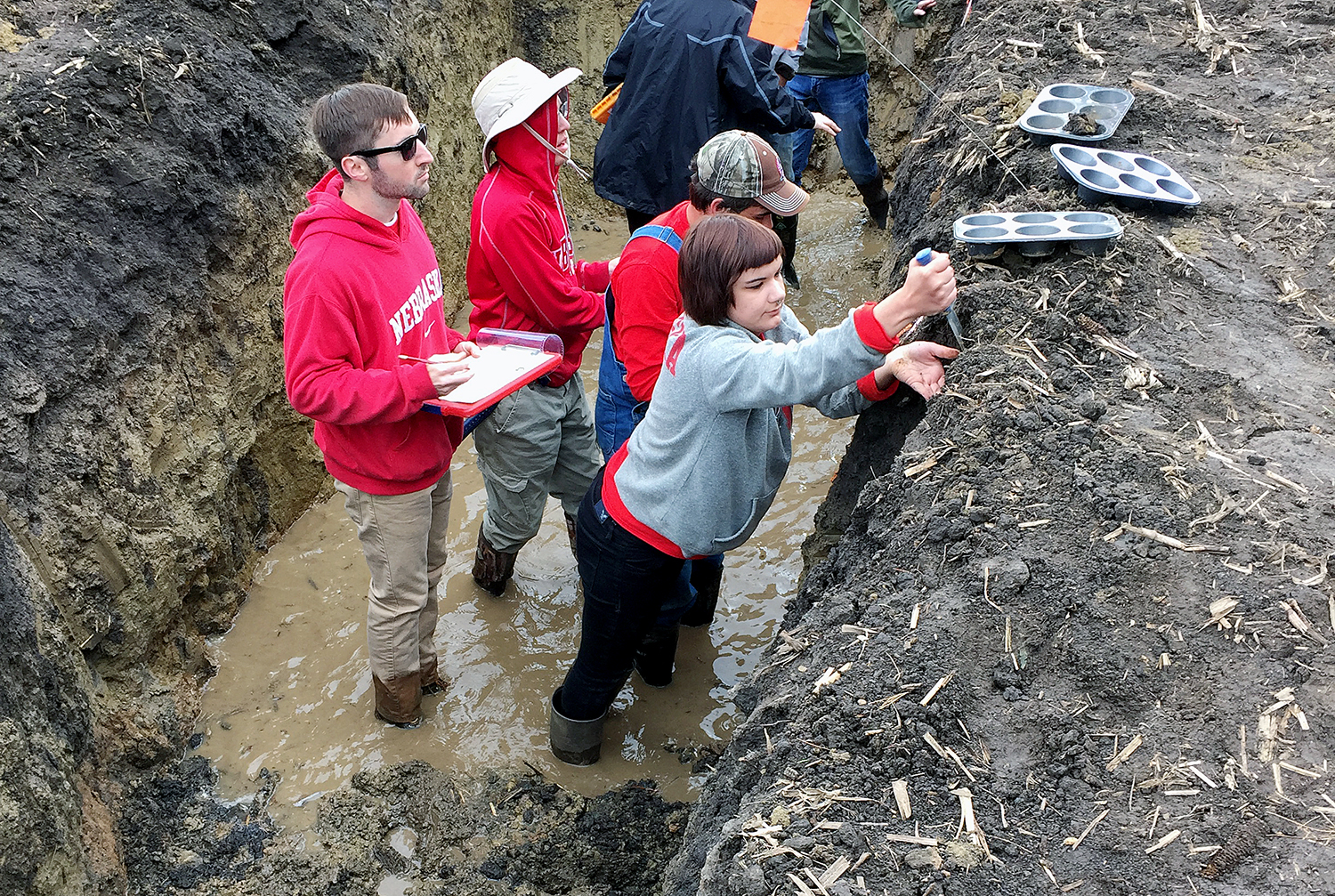 Four days of practice, two days of competition, 24 teams and 93 competitors. Competition for the University of Nebraska-Lincoln Soil Judging Team was fierce at the 2017 National Collegiate contest in late April in DeKalb, Illinois.

The UNL team, comprised of 11 students from the School of Natural Resources and the Department of Agronomy and Horticulture, placed 17th of 24 in both the group contest and overall. Team members Kolby Grint, Laura LeCuyer, Samantha Teten and Samuel Wilton each competed in the individual contest. Teten placed the highest at 23rd out of 93.

The national contest included the top-ranking universities from seven regional competitions across the country. Nebraska had placed third during the Region 5 competition Oct. 13 at Pawnee State Recreation Area, just west of Lincoln.

"We are incredibly proud of the hard work and tremendous effort the UNL students put in during the national contest," said coach Rebecca Young, an SNR lecturer. "They practiced diligently for about 8 hours a day for four days before the contest, through mud, rain, and wind. They were learning a lot of new information about a new set of soils, and we were impressed at how quickly they caught on to the new set of soil and landscape relationships and interpretations. Now we're looking ahead to the 2017 regionals in Redfield, South Dakota, in September."

Soil judging provides an opportunity for students to learn to identify, classify and describe properties of different soils and associated landscape features and to interpret soil information for land uses. Prior to a contest, students practice in pits near the competition site. On the day of the contest, they describe two pits individually and three as a team — all in pits they have not seen.

Team members were:

Autumn Dunn, senior environmental restoration science, fisheries and wildlife, and grassland ecology and management major

Rodger Farr, sophomore agronomy major

Kolby Grint, junior agronomy major

Laura LeCuyer, sophomore environmental restoration science major

Nikki Musgrave, junior environmental studies and geology major

Ashley Nassar, senior environmental restoration science major

Bryan Petersen, freshman applied climate science major

Adam Romans, senior environmental restoration science major

Samantha Teten, junior agronomy major

Sam Wilton, senior geology and water science major

Haley Zabel, junior agricultural education and cooperative education major


Assistant coach was Jake Ziggafoos, agronomy graduate student.

The American Society of Agronomy organizes the annual contests, and more than 40 universities from seven regions participate. Finals have rotated to a different host institution each year since 1961. This year, Northern Illinois University hosted the event.

University of Maryland took first place in the competition, followed by Kansas State and University of Wisconsin-Platteville. For more results, click here or here.

For more pictures from the event, click here.

Shawna Richter-Ryerson, Natural Resources; Fran Benne with Nebraska Agronomy and Horticulture contributed to this report.