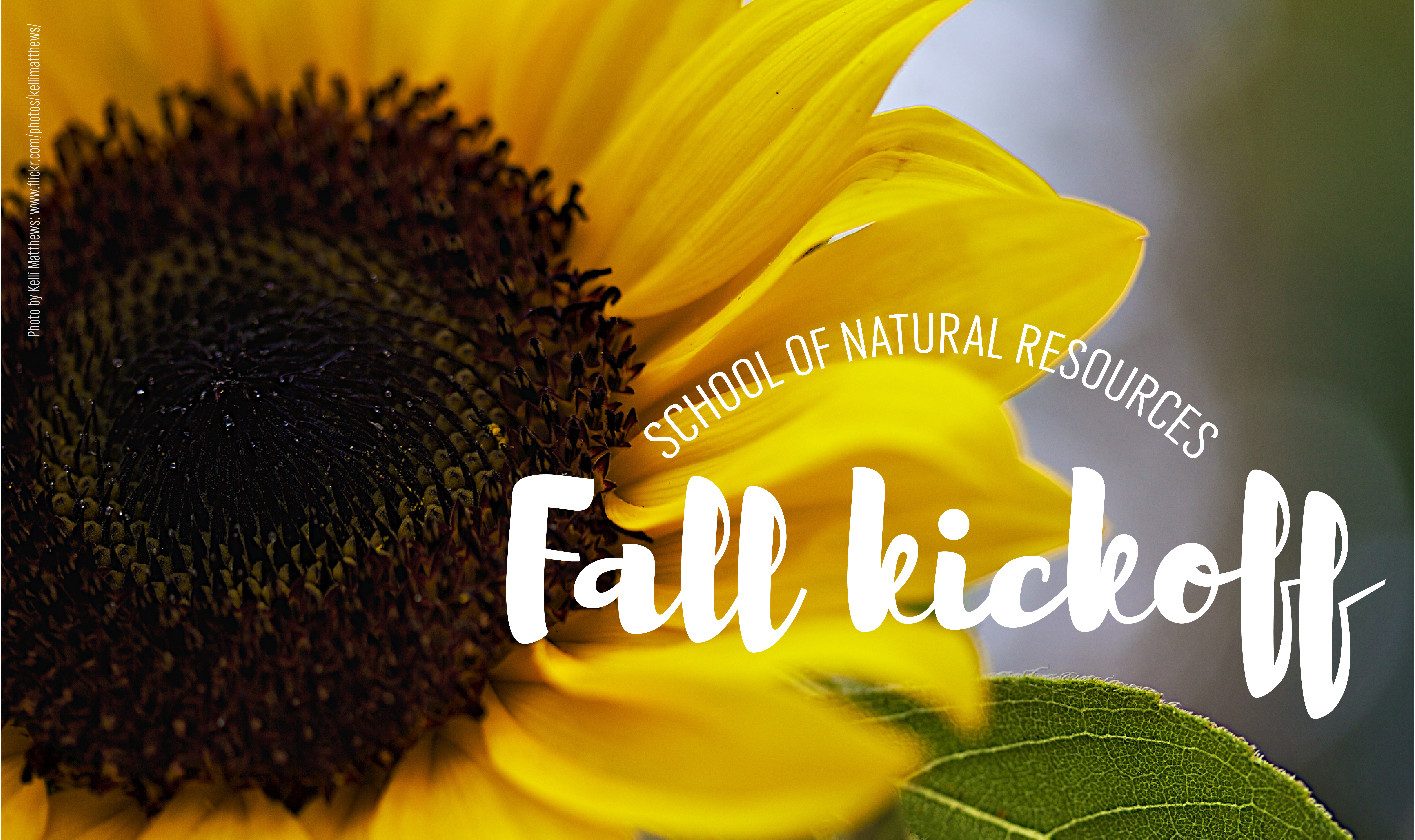 Faculty and staff are invited to attend the annual SNR Fall Kickoff to the academic year from 8 a.m. to noon Friday, Aug. 18, 2017, in Hardin Hall auditorium. The kickoff will continue with a second session for graduate students, faculty and staff from 1 to 3:45 p.m. also in the auditorium.

A pizza lunch will be from noon to 1 p.m. and a Welcome Back Reception will be from 3:45 p.m. to 5:30 p.m., both in the second floor lobby. All SNR faculty, staff and graduate students are invited to attend.

The complete schedule is as follows:

Session 1: All Faculty and Staff; graduate students optional

8 a.m.: Coffee and refreshments, first floor lobby area

8:30 a.m.: Welcome and introductions by John Carroll, SNR director

8:35 a.m.: Welcome by Mike Boehm, IANR vice chancellor

8:45 a.m.: SNR's Accomplishments in 2016-2017 by Paul Hanson, associate director

9:30 a.m.: SNR Vision, SNR future, and objectives and outcomes for 2017-'18 by John Carroll

10:15: Break

10:30 a.m.: SNR Student Services with Patty Swanson, graduate admissions coordinators; Sara Winn, advising coordinator; and Elyse Watson, recruitment and alumni coordinator

11 a.m.: SNR Extension with Dennis Ferarro, conservation biologist/herpetologist and community engagement coordinator, and Katie Pekarek, water quality educator

11:30 a.m.: Communications with Shawna Richter-Ryerson, SNR communication associate

11:45 a.m.: Closing with John Carroll

Noon: Welcome back pizza lunch in the second floor lobby
Session 2: All graduate students (required); faculty and staff encouraged
1 to 3:45 p.m.: Director John Carroll, Betty Walter-Shea and others will share important information regarding the new academic year. Zac Warren, ASUN GSA chair of professional development, and Elliott Wickham and Allie Schiltmeyer, of SNR GSA, also will talk about resources available for graduate students.
Session 3: Faculty only, second floor lobby, Hardin Hall
1:15 p.m.: Welcome and annual review by John Carroll, SNR director

1:30 p.m.: P&T and 3rd year package submission by Dave Wedin, P&T Chair

2:15 p.m. Breakout – Group Assignments

Joe Dauer, Lisa Pennisi, facilitators

Drew Tyre, Teaching Coordinator – for teaching faculty
Welcome Back Reception
3:45 to 5:30 p.m.: Refreshments will be provided.