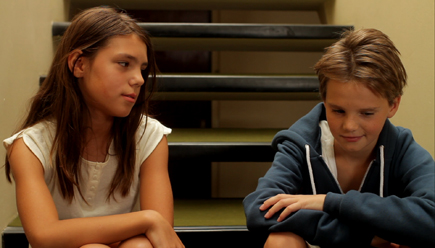 he contemporary French coming-of-age film 'Tomboy' opens today at the Ross. "Albert Nobbs," starring Glenn Close and nominated for three Academy Awards, continues for a second week. Both films play through Feb. 23.

In "Tomboy," filmmaker Celine Sciamma's ("Water Lilies,") second feature, a family with two daughters, 10-year-old Laure and 6-year-old Jeanne, moves to a new suburban neighborhood during the summer holidays. With her Jean Seberg haircut and tomboy ways, Laure is immediately mistaken for a boy by the local kids, and decides to pass herself off as "Mikael," a boy different enough to catch the attention of leader of the pack Lisa, who becomes smitten.

At home with her parents and girlie younger sister, she is Laure: hanging out with her new pals and girlfriend, she is Mikael. Finding resourceful ways to hide her true self, Laure takes advantage of her new identity, as if the end of the summer would never reveal her unsettling secret.

Celine Sciamma brings a light and charming touch to this contemporary coming-of-age story, which is also about relationships between children, children and parents, and the even more complicated one between one's heart and body.

Starring Glenn Close, "Albert Nobbs" is about a woman passing as a man in order to work and survive in 19th century Ireland. Close plays Nobbs, who after some 30 years after donning men's clothing, finds herself trapped in a prison of her own making.

"Albert Nobbs" has been nominated for three Academy Awards — Best Actress for Close; Best Supporting Actress for Janet McTeer; and Best Makeup.

For more information, including show times, go to http://www.theross.org or call 402-472-5353.