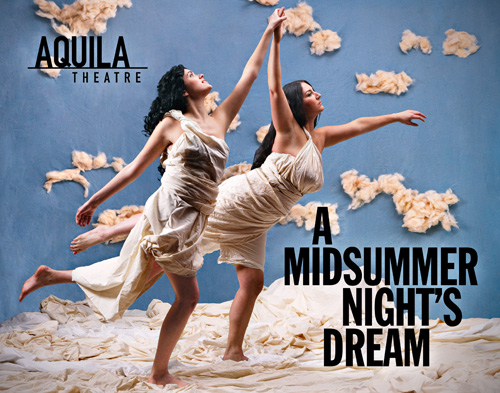 New York's Aquila Theatre Co. will delight Lincoln audiences in its modern interpretation of Shakespeare's comedy, "A Midsummer Night's Dream," at 7:30 p.m., Nov. 5 the Lied Center for Performing Arts.

Aquila Theatre Co. and its imaginative productions are a Lincoln favorite; the company has played to sold-out Lied Center houses in previous visits, performing "The Strange Case of Dr. Jekyll and Mr. Hyde," "Catch-22" and Shakespeare's "Julius Caesar."

"A Midsummer Night's Dream" has pleased audiences for centuries, and Aquila's imaginative interpretation will renew the magic of Shakespeare's plot. Set against a classical Athenian backdrop, "A Midsummer Night's Dream" deals with the universal theme of love, and its attendant complications: passion, lust, frustration, depression, confusion and, of course, marriage. Aquila weaves a web of theatrical magic that will take an audience to the heart of an enchanted forest, the injustice of the Athenian court, and the political strife of the fairy kingdom.

The plot focuses on the trials and experiences of two sets of lovers, the Fairy King and Queen and their servants, and a group of rude mechanicals attempting to stage a production of "Pyramus and Thisbe" for the wedding of the Duke of Athens. At the heart of the story is the Fairy King's servant, the impish Puck, whose magic creates an endless supply of mirth, mistaken identity and inappropriate, if not absolutely ludicrous passions.

Founded in London in 1991 by Peter Meineck, Aquila is based in New York City and is one of the foremost producers of touring theater. Since its inception, the company has won critical and academic acclaim for its dedication to classical drama. Aquila presents a regular season of plays in New York, at international festivals, and tours to approximately 70 American towns and cities a year. Aquila also provides access to excellent theater for people in under-served rural and inner city communities.

Tickets are available at the Lied Center, online at http://www.liedcenter.org or by calling (402) 472-4747. Tickets are $25 for adults and $12.50 for students. Discounts available for groups of 20 people or more by calling Cheri Beery at (402) 472-4725.
More details at: http://liedcenter.org