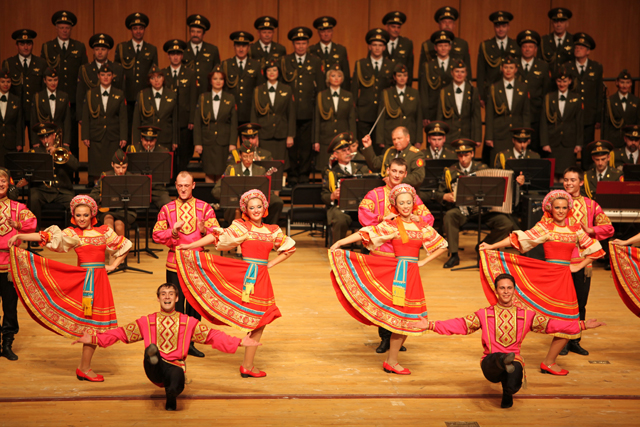 An evening of traditional Russian music and dance fit for the royal Russian Army is in store when the Red Star Red Army Chorus and Dance Ensemble makes its return to the Lied Center for Performing Arts at 7:30 p.m. March 17.

Originally created in 1978 as part of the Strategic Rocket Forces of the former Soviet Union, Red Army Chorus and Dance Ensemble has toured across the globe representing Russian military art with energetic music and spectacular cassock dancing performed by an ensemble of almost 100 musicians and dancers. Now, the enormous cast returns to the Lied Center for the first time in 20 years, showcasing both incredible military precision and powerful music.

The New York Times wrote, "The young dancers in the mini-Moiseyev numbers are first class and the vocal soloists are, in fact, opera singers."

Red Army Chorus and Dance Ensemble will perform selections including "Russian Sailor's Dance," "Moscow Nights" and Leonid Knipper's "Meadowland."

Tickets are at $29 and $24 and can be purchased at http://www.liedcenter.org, by calling 402-472-4747 or in person at the Lied Center Box Office.

More details at: http://liedcenter.org