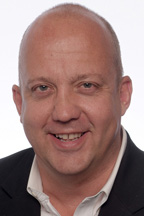 The first of three public presentations by finalists for the dean of the College of Architecture is today. The presentations, each of which will conclude with a reception, are free and open to faculty, staff and students.

George Thrush, professor and director of the School of Architecture at Northeastern University in Boston, will lead the first public presentation, 3:30 to 5 p.m., today in the Sheldon Museum of Art auditorium.

Thrush has been affiliated with Northeastern since 1990 and has directed the school since 2006. His research, practice, writing, and teaching all revolve around contemporary urban issues in architecture and he is among the lead authors of a comprehensive transportation and development proposal for the Boston metropolitan area. He was one of three recipients nationwide of the 1996 American Institute of Architects Young Architects Citation. He earned his Bachelor of Architecture from the University of Tennessee (1984), and his Master of Architecture from Harvard University (1988). In 2005 he was elected to the American Institute of Architects College of Fellows.

The other finalists and dates on campus are: Craig Barton, University of Virginia, March 29-30; and Daniel Friedman, University of Washington, April 2-3.

Barton's public presentation is 3:30 to 5 p.m. March 29 at the Lied Center for Performing Arts in the Steinhart Room. Friedman's public presentation is 3:30 to 5 p.m. April 2 in the Sheldon Museum of Art auditorium.

For more information on the search, go to http://go.unl.edu/coadeansearch.