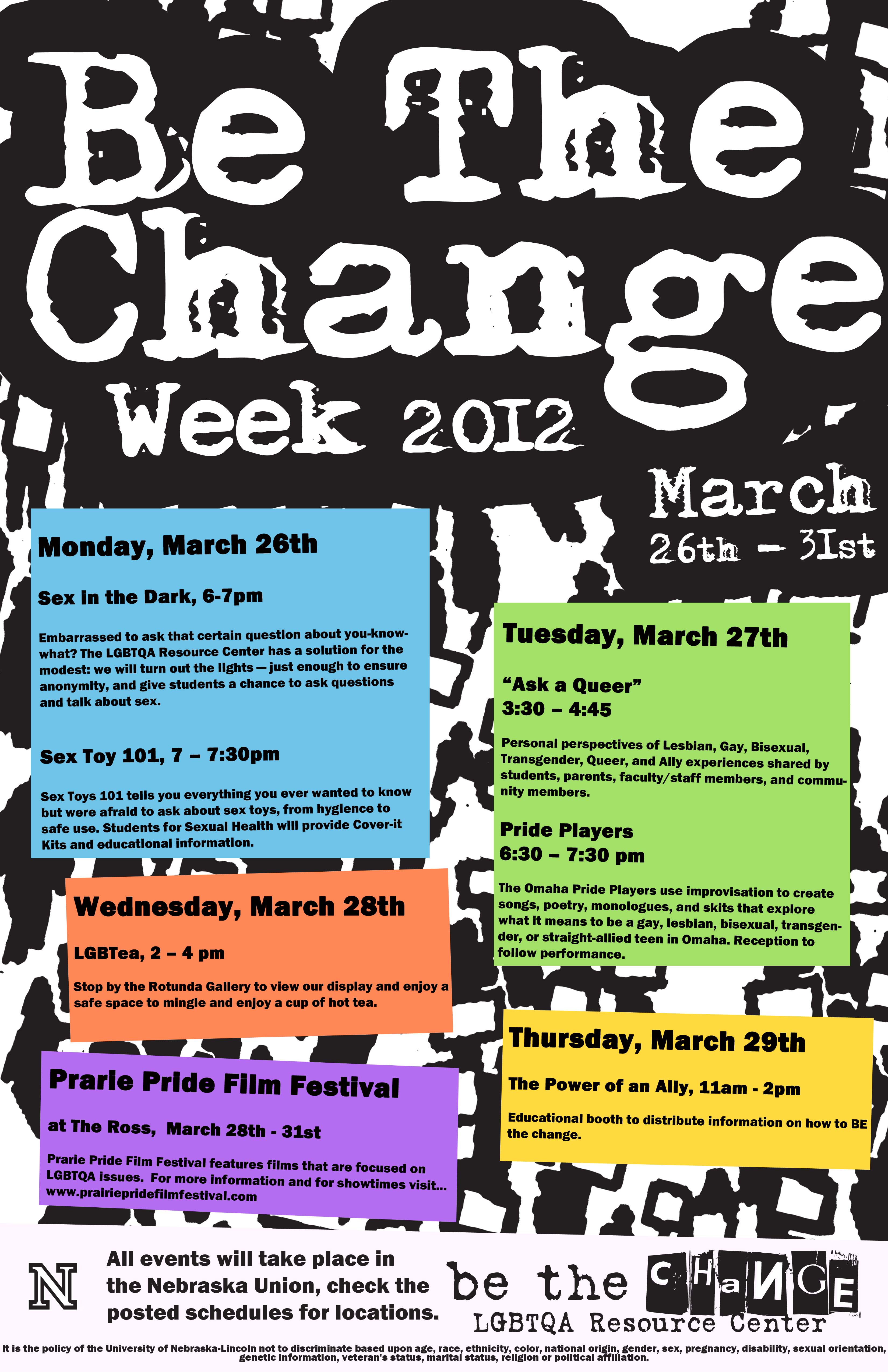 The LGBTQA Resource Center is hosting an activity-filled week March 26–31 focused on what individuals can to "be the change" in the community. All events are free and will be in the Nebraska Union. Open to all.

• Tuesday, March 27
"Ask a Queer", 3:30 to 4:45 p.m.
Personal perspectives of lesbian, gay, bisexual, transgender, queer, and ally experiences shared by students, parents, faculty/staff members, and community members.

Pride Players, 6:30 to 7:30 p.m.
The Omaha Pride Players use improvisation to create songs, poetry, monologues, and skits that explore what it means to be a gay, lesbian, bisexual, transgender, or straight-allied teen in Omaha. Reception to follow performance.

• Wednesday, March 28
LGBTea, 2 to 4 p.m.
Stop by the Rotunda Gallery to view a display and enjoy a safe space to mingle and enjoy a cup of hot tea.

• Thursday, March 29
The Power of an Ally, 11 a.m. to 2 p.m.
Educational booth to distribute information on how to "be the change."


Addtionally, the LGBTQA Resource Center and Allies and Advocates for GLBT are co-hosting the 2nd Annual Prairie Pride Film Festival March 28-31 at the Mary Riepma Ross Media Arts Center.

Film descriptions are posted at http://prairiepridefilmfestival.com.

Shows are at 7 p.m. March 28-30 and 31; and 3 p.m. March 31.

"The Wise Kids," plays March 28; "Vito" plays March 29; "Legalize Gay," is March 30; "United in Anger: A History of ACT UP," plays 3 p.m. March 31; "Kiss Me" plays 7 p.m. March 31.

Each film will be followed by a discussion and/or social event.
More details at: http://go.unl.edu/pc8