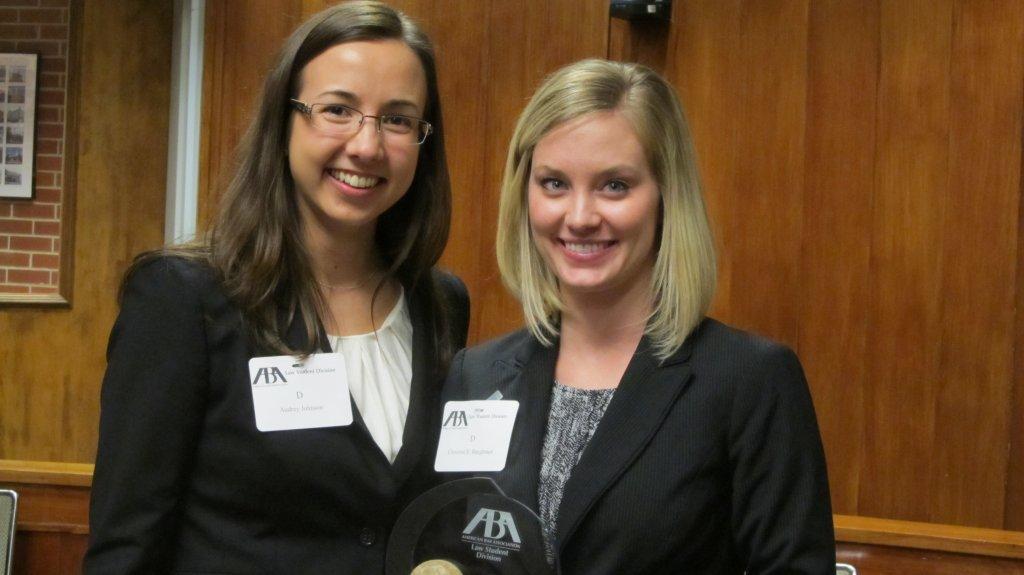 Nebraska Law 3Ls Audrey Johnson and Christine Baughman won the National Championship at the American Bar Association Law Student Division's 39th Annual Client Counseling Competition held March 16-17 at North Carolina Central University's College of Law.

Baughman and Johnson, the Regional winners from Region 8 of the ABA's 12 National competition regions, competed against eleven other American teams at the national competition. Their victory makes them the best in a large field of law-student teams: this year 137 teams from 91 law schools went to Regional competitions in 12 regions of the U.S.

Baughman and Johnson will represent the United States in the International Client Counseling Competition at the Law Society in Dubin, Ireland, on April 18-21.

This is not the first victory for this outstanding team. Last year the duo represented the College at Region 8 at the University of South Dakota School of Law, in Vermillion, S.D., where they also won. Later that Spring, they went on to compete at the Nationals at the University of Oklahoma Law School in Norman, Okla.

In 38 years, Nebraska Law teams have won the regional competition 13 times. Ten of those Regional victories have come in the last 17 years alone. From those 13 Regional victories, the College has gone on to win the national championship four times.

In addition to Baughman and Johnson, the Nebraska Law national champions were:

1975: Robert Cannon and Susan Jacobs. This was the College's first entry in the competition; it turned out to be a harbinger of things to come. In 1975, there was no international client counseling competition, so this team's work stopped here.

2004: Kevin Corlew and Adam Pavelka. They participated in the international competition in Glasgow, Scotland.

2009: Adam Bates and Amy Bartels. They won the international competition in Las Vegas, and presented the International Trophy to the next year's winning team, in 2010, in Hong Kong.

From the 10 Regional championships for the College in the last 17 years have come three national championships (those in the last nine years alone), two national second-place finishes, and two national third-place finishes.