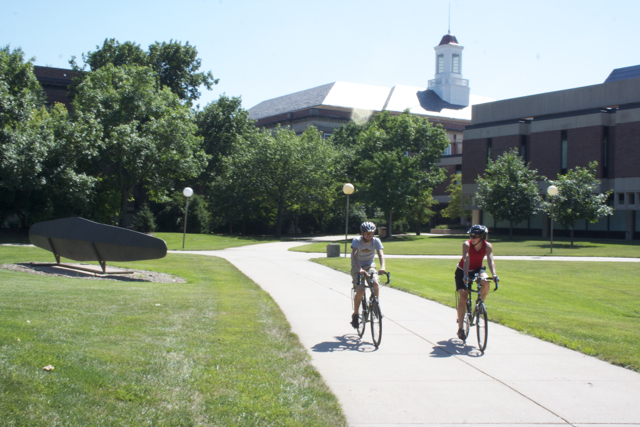 The City of Lincoln is partnering with the local bicycling community to encourage residents to participate in Bike to Work Week, May 11-18. Those who sign up to participate will receive a free reusable bag from Natural Grocers full of information and coupons (while supplies last) and will be entered in a drawing for prizes.

Registration sites are:
• Bike Rack, 3321 Pioneers Blvd.
• Cycle Works, 27th and Vine
• Joyride Bicycles, 5633 S. 16th St.
• Cleaner Greener Lincoln, 2143 O St.
• Lincoln-Lancaster County Health Department, 3140 N St.
• Lincoln Parks and Recreation, 2740 A St.

Two events planned for the week:

A free "Kickoff Rally" is 8 a.m. May 11 on the south side of Pershing Center. The rain date is May 14. Bikers will meet at 7:30 a.m. at one of the three bike shop locations listed above and bike as a group to Pershing for refreshments and exhibits.

UNL bikers will meet outside the Campus Rec Center on 14th Street before proceeding to Pershing Center as a group.

A free ice cream social is 4:30 to 6 p.m. May 18 at the Jayne Snyder Trail Center, 250 N. 21st St. The event features refreshments from the UNL Dairy Store and prize drawings.

Bikers are encouraged to wear helmets. The city also reminds residents that it is illegal to ride a bike on sidewalks in downtown and other congested districts.

For more details, UNL bikers can call Jordan Messerer at the Campus Rec Center's Bike Shop, jmesserer2@unl.edu, 402-472-8871.

Riders can also register for the first Lincoln Bicycle Commuter Challenge, May 1-Aug. 31. The competition is part of the "Get Up and Ride" national bike challenge and designed to encourage people to bike more for transportation and recreation. Participation is free and open to all ages. Register at http://go.unl.edu/2ow.

Lincoln is currently sixth out of the 593 communities competing in the "Get Up and Ride" challenge.

For more information on the challenge, contact Mike Heyl at mheyl@lincoln.ne.gov or 402-441-3889, or Damon Hershey at damon@cycleworksusa.com or 402-472-2453.