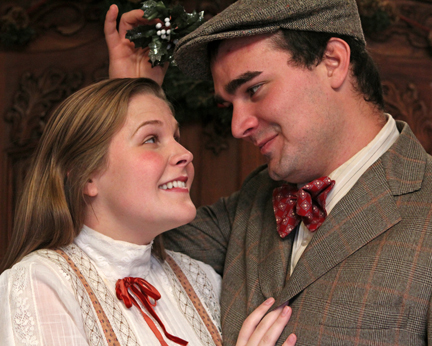 The Nebraska Repertory Theatre celebrates the season with a musical adaptation of the O. Henry short story "The Gift of the Magi." Performances are 7:30 p.m., Dec. 10 and 11, and 2 p.m., Dec. 11 and 12 in Temple Building's Studio Theatre.

Individual tickets are $20 general admission; $18 faculty, staff and senior citizens; and $10 for students with a valid ID. Tickets are available at http://www.unl.edu/rep, by calling 472-4747, through the Lied Center for Performing Arts ticket office, or at the door one hour prior to a performance. Reservations are recommended.

The story is about Della and Jim, a young couple deeply in love and struggling to make ends meet in their New York tenement flat in the early 1900s. In the process of preparing for Christmas, they show the depth of their love by sacrificing their most prized possessions to buy each other presents.

The musical adaptation is written by Peter Ekstrom and is directed by UNL's William Shomos. The production features Kellyn Wooten as Della and Tyler Buglewicz as Jim. Vincent T. Learned is musical director.
More details at: http://go.unl.edu/mhu