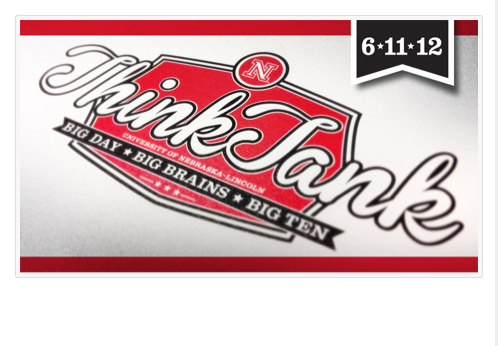 The annual communicators' "Think Tank" sponsored by University Communications is June 11 at Champions Club. Deadline for registration is May 25.

Intended as a seminar on communications and marketing, university communicators and others interested are welcome to register at http://marketplace.unl.edu/default/ucomm/think-tank.html. Cost is $45 and includes lunch and a T-shirt.

Agenda:

8 - 9 a.m. Registration

9 a.m. "Setting goals, measuring outcomes" by
Corey Johnson, CEO, Solve, Minneapolis

10 a.m. Break

10:10 a.m. "Using analytics to measure audience engagement" by Caleb Whitmore, Analyticspros

11:30 a.m. - 12:30 p.m. Buffet lunch, UNL Dairy Store ice cream

12:30 - 1:30 p.m. "Brand engagement in a digital world" by Greg Andersen, Chief Executive Officer, BBH NY

1:30 p.m. Break

1:40 - 2 p.m. "Social Media — observations about its place in the scope of all media" by Ken Christie, President, 543 Group

2 - 2:20 p.m. "Observations on social media" by
Matt Waite, PolitiFact developer

2:20 - 3 p.m. Panel on social media (with audience participation) by
Matt Waite, College of Journalism and Mass Communications and PolitiFact
Ken Christie, 543 Group
Greg Andersen, BBH NY

For questions call 472-0088.
More details at: http://go.unl.edu/uia