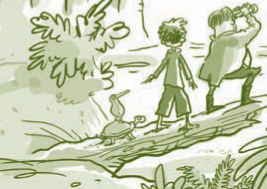 On May 30, the University of Nebraska State Museum opened "Charlie and Kiwi's Evolutionary Adventure." The new exhibit features an engaging story, displays and activities that introduce visitors to the basics of evolution, seen through the eyes of Charlie, a boy who is writing a report about his favorite bird — the kiwi.

The exhibit will be on display through Sept. 14, in Morrill Hall.

"Charlie and Kiwi's Evolutionary Adventure" includes evidence that dinosaurs are the ancestors of modern birds. Visitors can trace the slight differences between living birds of the same species by examining the colors, shapes and sizes of their beaks, legs and feet. They will join Charlie as he travels back in time to the age of dinosaurs to discover the kiwi's ancestors and evidence for natural selection. The adventure unfolds in an intimate theater on a giant digital storybook screen, while an interactive component allows visitors to speed up time so they can see the evolution of birds with their own eyes.

For more information, go to http://www.museum.unl.edu or call 402-472-3779.