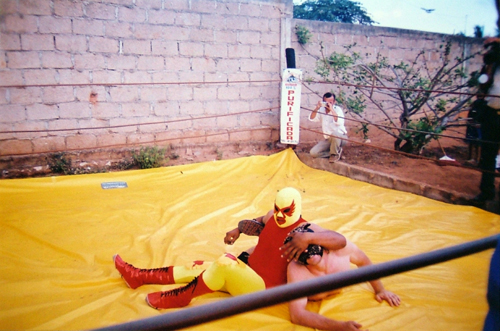 The Mary Riepma Ross is featuring "Tender Muscles," a collection of five short films by Charles Fairbanks, at 7:45 p.m. June 9. The event, which is free and open to the public, includes a question and answer session with the filmmaker.

Fairbanks is a wrestler and filmmaker. His recent work focuses on Lucha Libre in Mexico, where the artist fights as the One-Eyed Cat (El Gato Tuerto) with a camera built into his mask.

Fairbanks grew up in rural Nebraska and wrestled at Stanford University, where he studied art and the history of science. He completed graduate school at the University of Michigan. In 2010 Fairbanks was chosen by Werner Herzog for the first Rogue Film School, and in 2011 Anthology Film Archives hosted the retrospective screening "Tender Muscles: Five Films by Charles Fairbanks."

Fairbanks is currently a Guggenheim Fellow and assistant professor of media arts at Antioch College.

The five short films featured in "Tender Muscles" are:

"Pioneers" (35 minutes, 2009) — A portrait of industrial agriculture and new-age spirituality, focusing on the filmmaker's parents. It is also an unwitting self-portrait of an artist returning to the place he grew up, where he feels both the comforts of home and the alienating weight of the past.

"The Men" (3 minutes, 2010) — Documents the fighter's perspective in submission wrestling.

"Wrestling with My Father" (5 minutes, 2010) — A portrait of Fairbanks' father, simply depicting him in the audience during a wrestling match. Fairbanks' father was also a wrestler.

"Irma" (12 minutes, 2010) — An intimate musical portrait of Irma Gonzalez, the former world champion of women's professional wrestling. Filmed in Ciudad Nezahualcóyotl, "Irma" features music written and performed by Gonzalez.

"Flexing Muscles" (21 minutes, 2012) — A wrestling movie about postmodern consumption and production: physical work and embodied culture for the digital age. It is also an immersive, participatory, experimental ethnography on Mexico's spectacular masked wrestling, Lucha Libre, for which the filmmaker resumed his career fighting as The One-Eyed Cat (El Gato Tuerto), this time with a camera built into his mask.

Also showing at the Ross is "The Best Exotic Marigold Hotel" (rated PG-13) and "Sound of My Voice" (rated R). Both show through June 14.

For more information, go to http://www.theross.org or call 402-472-5353.