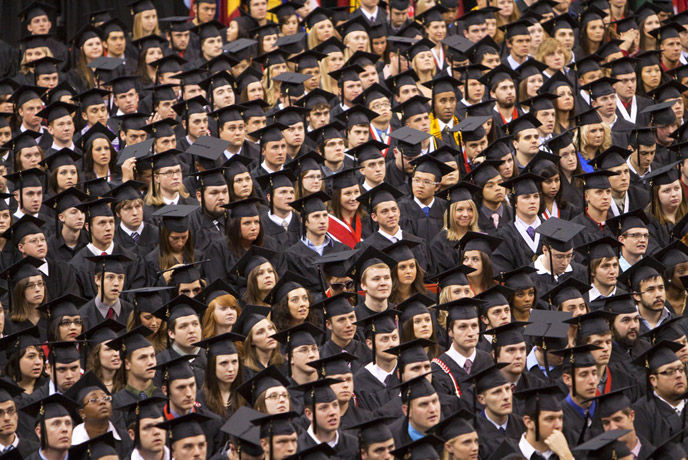 UNL's fall commencement exercises are Dec. 17 and 18.

Graduate commencement exercises, including doctoral hooding, begin at 3 p.m. Dec. 17 for students earning doctoral and master's degrees. Undergraduate exercises begin at 9:30 a.m. Dec. 18. Both ceremonies will be at the Bob Devaney Sports Center. The College of Law will have a separate hooding and commencement ceremony at 1 p.m. Dec. 17 in the Hamann Auditorium of Ross McCollum Hall, East Campus Loop and Fair Street.

More than 1,400 students will receive degrees. Ellen Weissinger, interim senior vice chancellor for academic affairs, will preside at both Devaney Center events. Susan Poser, dean of the Law College, will preside at the law ceremony.

Mary Uhl-Bien, Howard Hawks Chair in Business Ethics and Leadership and co-director of the UNL Institute for Innovative Leadership in the College of Business Administration, will deliver the address at the graduate ceremony.

Clayton Anderson, NASA astronaut, will deliver the address at the undergraduate ceremony.

Deborah R. Gilg, U.S. Attorney for the District of Nebraska, will deliver the address at the law ceremony, which will graduate 11 students.

Uhl-Bien's research and teaching interests are complexity leadership, relational leadership, followership and ethics. She studies leadership and adaptability in the healthcare industry, and has conducted research in partnership with organizations including Lockheed Martin, Bank of America, Disney, the U.S. Fish and Wildlife Service and the U.S. Air Force Academy. She has been a visiting professor in Sweden, Portugal and Spain. She also has been a consultant and educator for a number of national and international organizations.

Anderson is a native Nebraskan who has flown missions with the Space Shuttle and the International Space Station. He is a 1981 graduate of Hastings College and holds a master's degree from Iowa State University, conferred in 1983, the same year he joined the Johnson Space Center in the mission planning and analysis division. A veteran of two space flights, Anderson has logged 167 days in space, and 38 hours and 28 minutes in six spacewalks. He completed five months aboard the International Space Station in 2007, and served aboard the STS-131 crew in 2010.

Gilg, a former county attorney in western Nebraska, was nominated in 2009 by President Barack Obama to be Nebraska's U.S. attorney, the first woman to hold the position. Gilg is a UNL and NU Law College graduate. She was a prosecutor and county attorney in Keith and Arthur counties, and was a part-time prosecutor in Saunders County. She joined the Omaha firm of Gilg, Kruger and Troia in 2005 where she specialized in family law practice, estate planning and civil litigation.

All ceremonies are free and open to the public, and tickets are not required. Parking is free. The ceremonies will be Web-streamed live from the Devaney Center through a link at the UNL website, http://www.unl.edu.

A drop-off area for graduates and mobility-restricted guests will be available on the south side of the Devaney Center. Handicap-accessible shuttle buses will be available for easy access to the Devaney Center entrance and handicap permit parking will be available on the north side of the building. Closed captioning for people with hearing impairment will be provided through the HuskerVision screens. Handicap seating is available on the arena floor and in section B-11. Event attendants are on hand to direct guests. Because of security concerns, parcels, handbags and camera bags will be subject to search.