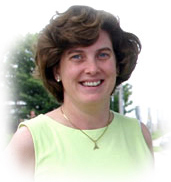 Lauren McIntyre, a professor of molecular genetics and microbiology at the University of Florida, will lead a 3 p.m., July 12 statistics seminar in the Hardin Hall Auditorium. The seminar is free and open to the public.

McIntyre will discuss "Tips and Tools: Analyzing Allele Specific Expressions Genome Wide."

McIntyre's lab is developing new methods to help analyze large amounts of data to better understand complex problems in genetics and evolution. Her work is largely concerned with whole systems of "omic" data from genomic to proteomic; the application of statistical theory across DNA, RNA and proteins; and modeling the relationships that result in phenotype.

For more information on McIntyre's work, go to http://go.unl.edu/mcintyre.