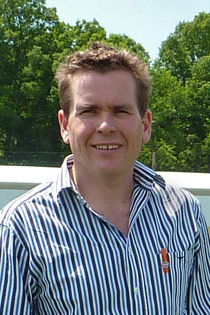 Michael Francki will discuss commercial wheat breeding in a 2:30 p.m., Aug. 16 Agronomy and Horticulture Guest Lecture in 150 Keim Hall. Francki is an adjunct professor at UNL and a professor at Murdoch University in Western Australia.

The lecture, "The Wheat Pre-Breeding Innovation Pipeline at the Department of Agriculture and Food Western Australia: Delivering Research Products for Trait Improvement in Commercial Breeding," is free and open to the public.

Francki will present an overview of the innovation pipeline in the program and the delivery of research products adopted and utilized by commercial wheat breeding companies. The presentation will focus on flour b* color, an important grain quality trait in breeding for specific wheat end-prouducts.

Francki received a bachelor of science degree at the Flinders University of South Australia in 1990 and a doctorate in cereal molecular genetics from the University of Adelaide in 1995. His research interests are on the molecular and genetic mechanisms controlling trait variation and delivery of outcomes for breeding commercial varieties for the Western Australian wheat industry.