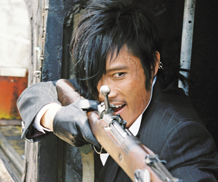 Two diverse films by Korean directors will play the Mary Riepma Ross Media Arts Center from through June 17.

In "The Good, The Bad, The Weird," Kim Jee-Woon presents a classic good versus evil showdown set in a 1930s Manchurian desert where lawlessness rules.

Fate brings three Korean men together on a train. Do-won is a bounty hunter who tracks down wanted criminals. Chang-yi is the leader of a group of tough-as-nails bandits and can't stand to be second best. Tae-goo is a train robber with nine lives.

Tae-goo robs the train and takes possession of a mysterious map. Do-won and Chang-yi chase Tae-goo across Manchuria seeking the map. Joining in the hunt for the map are the Japanese army and Asian bandits.

Also playing is "Mother," the latest film from award-winning director Bong Joon-ho.

"Mother" is a unique murder mystery about a mother's primal love for her child.

Mother is a devoted single parent to Do-joon, her simple-minded, 27-year-old son. Often a source of anxiety to his mother, Do-joon behaves in foolish or simply dangerous ways. One night, while walking home drunk, he encounters a school girl who he follows for a while before she disappears into a dark alley. The next morning, she is found dead in an abandoned building and Do-joon is accused of her murder.

An inefficient lawyer and an apathetic police force result in a speedy conviction. Do-joon's mother refuses to believe her son is guilty and immediately undertakes her own investigation to find the girl's killer. In her obsessive quest to clear her son's name, Mother steps into a world of unimaginable chaos and shocking revelations.

For more information about "Mother" and "The Good, The Bad, The Weird," go to http://www.theross.org.
More details at: http://www.theross.org