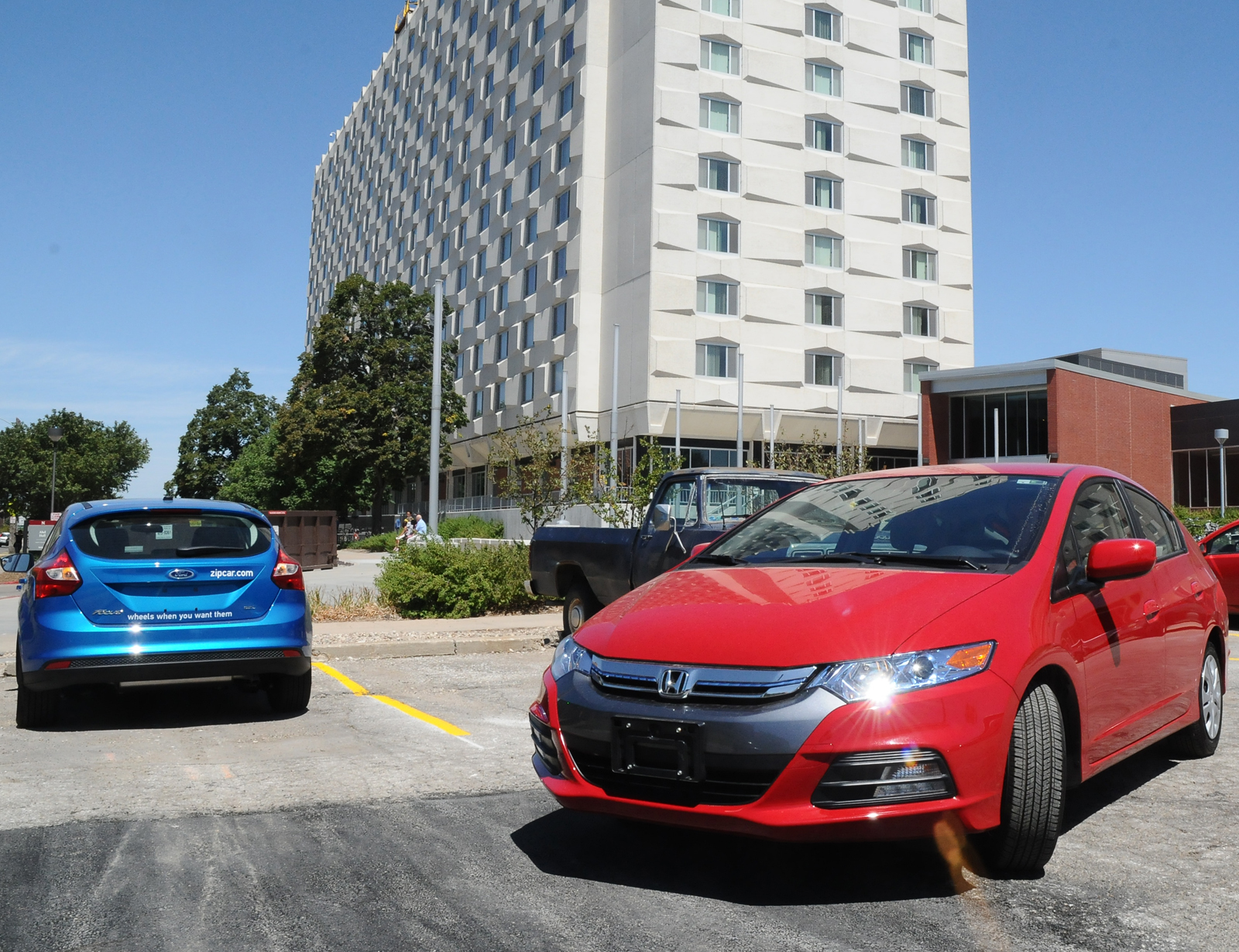 UNL has launched a new partnership with Zipcar Inc., to offer a car-sharing program on campus. The convenient transportation option is available at an affordable rate 24 hours a day, seven days a week for students, faculty and staff.

UNL members can join for a $25 annual membership fee, with rates on campus Zipcar vehicles starting as low as $7 per hour and $66 per day. Gas, insurance, reserved parking spots, up to 180 miles of driving per day and roadside assistance are included in Zipcar rates. Cars can be reserved for as little as an hour or for multiple days.

UNL will initially offer four vehicles, including Ford Focus and Honda Insight models. The cars are available in Area A parking lot at 17th and Vine streets (just southwest of Abel-Sandoz Residence Halls) and in the Area A parking lot immediately west of Pound Hall.

Zipcars are self-service and can be easily reserved and accessed any time, any day.

Participating members with smartphones, including iPhones and Android devices, may download the Zipcar mobile application to make reservations, lock and unlock the vehicles and honk the horn to help locate the vehicle. Members can also use Zipcar's "Reserve a Zipcar" app on Facebook to view available Zipcars and make, extend or cancel a reservation all from their Facebook account. Reservations can also be made over the phone or on Zipcar's website, http://www.zipcar.com.

Michael Serafino, general manager for Zipcar University, said it can be difficult and expensive to bring cars to campus, and Zipcar provides members the ability to run errands, attend job interviews and internships or get away for the weekend on a pay-as-you-go basis.

"We are excited to bring Zipcar onto the University of Nebraska-Lincoln's campus and provide students, faculty and staff with a sustainable transportation option that provides fun and freedom, as well as environmental benefits for the campus," Serafino said.

With the new Zipcar program available on campus, UNL student organizations also now have the opportunity to participate in the "Students with Drive" grant program sponsored by Zipcar and Ford Motor Co. which provides students with free Zipcar memberships and driving credits to support student organizations on campus. To participate and for more information students can visit the "Students with Drive" tab on Zipcar University's Facebook page at http://www.facebook.com/ZipcarU.

UNL students, faculty and staff can join at http://www.zipcar.com/unl. Members must be 18 or older. Members of the local community 21 and older also are eligible for membership.

Dan Carpenter, director of parking and transportation services, said students have been interested in a car-sharing or low-cost car rental program for some time.

"I think we will get a lot of excitement from students about the Zipcars," Carpenter said. "The service really fills a need. Many students find they can easily get by without having a car on campus because of our bus service, but they want options for weekend road trips or running quick errands around town. Zipcar is perfect for that."

Carpenter said the university may add more Zipcars if demand warrants it.

Zipcar has partnerships with more than 250 other universities across the United States, including Creighton University and the University of Missouri. UNL selected Zipcar following a bid process.

Zipcar representatives will be available at a launch event, 9 a.m. to 2 p.m. Aug. 22 and 23 at the Nebraska Union Plaza.