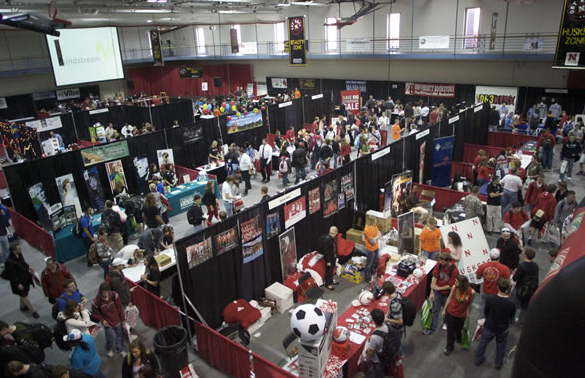 Campus Recreation will host "Get Rec'd 2011," 11 a.m. to 4 p.m., Jan. 20-21. Held in the Campus Recreation Center, the two-day festival showcases the wares of nearly 80 companies to 20,000 students, faculty, staff and community supporters. Admission is free and the event is open to the public.

Attendees can visit vendor booths, try out new products, collect giveaway items, grab a bite to eat and enter to win prizes through drawings and contests.

For the second year in a row, Get Rec'd has partnered with People's City Mission to present the "Free T-Shirt for a Can" service project. Every person who attends and donates a canned food item will receive an official Get Rec'd T-shirt. A University Bookstore booth will also provide a chance to win a can of food to exchange for a T-shirt. The goal is to collect 4,000 cans for the People's City Mission.

This year, more than $10,000 in prizes will be awarded through Get Rec'd contests. Many more prizes valued in the thousands of dollars will be given away directly from exhibiting vendors. Companies appearing at this year's event include: Sprint, University Bookstore, College of Hair Design, Chipotle Mexican Grill, Noodles & Company, Raising Cane's Chicken Fingers, HyVee, Clinique, T.O. Haas Tire, Nesquik, Wells Fargo and Gallup. A complete listing of exhibitors, vendors, and sponsors is available at http://www.getrecd.com.

In addition to the exhibiting vendors, Get Rec'd will again host five competitive contests where students will have the chance to win even bigger prizes, including a Spring Break cruise to the Bahamas plus $500 spending cash. The contest are: The Ultimate Road Trip Challenge; Husker Superstars; Wii Just Dance competition; Husker Football Trivia; and the Pepsi Olympics.

Entertainment and food are a big part of Get Rec'd. Entertainment includes the University Bookstore Fashion Show, Zumba Fitness demonstration, Turbo Kick demonstration and a dance performance by the Scarlets. The Food Zone will be open 11 a.m.-2 p.m. each day with free food from Amigos, Chipotle Mexican Grill, Metro Dining Delivery, Naked Juice, nuVibe, Pepsi, Papa John's Pizza, Planet Sub and Raising Cane's.

UNL's first Get Rec'd was in January 2007, when 12,000 attendees visited with nearly 60 vendors; the 2008 event hosted 88 exhibitors and vendors.

Get Rec'd 2011 is made possible through support from sponsors and media partners: Amigos/Kings Classic, Chipotle Mexican Grill, College of Hair Design, Downtown Lincoln Association, Metro Dining Delivery, Naked Juice, Nebraska Athletics, Papa John's Pizza, Pepsi, Planet Sub, Raising Cane's, Sprint, University of Nebraska Federal Credit Union and the UNL Computer and Phone Shop.

For more information, go to http://www.getrecd.com.
More details at: www.getrecd.com