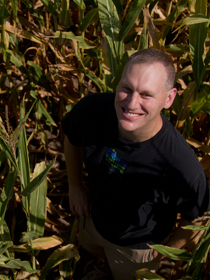 Work performed by Brian Wardlow and the National Drought Mitigation Center could lead to the development and application of new satellite-based Earth observations products using gravity data from current and future NASA missions, according to a recent article published by a NASA website.

In collaboration with NASA scientists, Wardlow — a professor at the School of Natural Resources — used data provided by two satellites to create applications for measuring changes in soil moisture and groundwater levels across the United States.

Success in creating highly detailed maps of groundwater levels across the continental United States has shown NASA the value of using satellite-based gravity data for monitoring sub-surface hydrology in support of operational drought monitoring. The satellites collecting the information are called the Gravity Recovery and Climate Experiment, or GRACE.

"GRACE's measurements of groundwater, ice, and oceans are now so essential that NASA is preparing to launch a follow-on mission," said the article featured on NASA's "Earth Observatory" webpage.

Wardlow, a remote sensing expert, has worked with the NDMC's GIScience Program and is director of UNL's Center for Advanced Land Management Technologies.

Read more about the project at http://earthobservatory.nasa.gov/Features/GRACEGroundwater/.