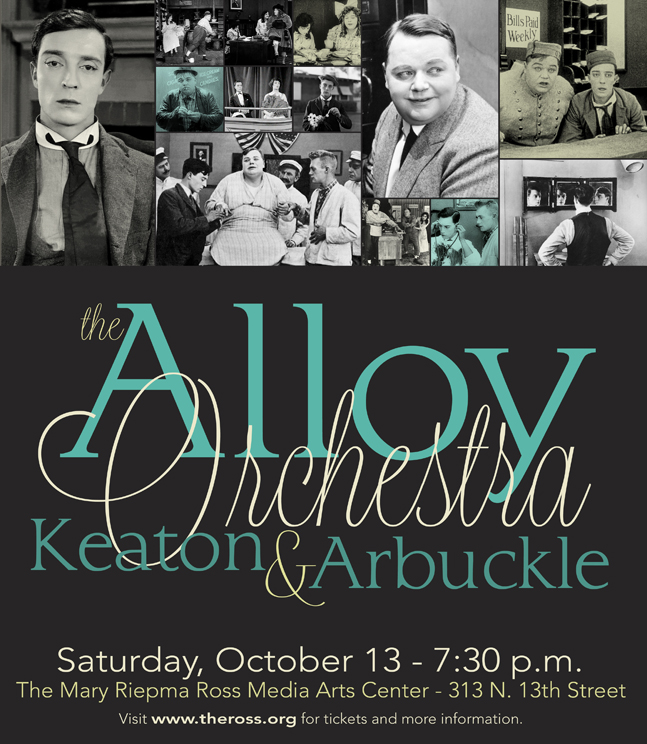 The world-renowned Alloy Orchestra will perform live accompaniment to short films starring Buster Keaton and Roscoe "Fatty" Arbuckle at 7:30 p.m. Oct. 13 at the Mary Riepma Ross Media Arts Center.

Tickets, available at http://www.theross.org or at the Ross box office, are $25 general admission; $20 for senior citizens; and $15 for students and members of the Friends of the Ross.

The Alloy Orchestra is a three-man musical ensemble that writes and performs live accompaniment to classic silent films. The group uses an unusual combination of found percussion and state-of-the-art electronics to create any sound imaginable.

The group's Keaton and Arbuckle show features the soundtrack to "The Butcher Boy" (1917, 28 minutes); "Good Night, Nurse" (1918, 24 minutes); and "The Playhouse" (1921, 23 minutes).

Keaton is widely recognized as one of the greatest comedians in film. Arbuckle is less well known, but was Keaton's mentor and also a great film comedian.

"The Butcher Boy" is the first film Arbuckle made for his own production company and the first time Keaton ever appeared on screen. The film stars both comedians, Arbuckle as a butcher boy in a general store and Keaton as a customer.

"Good Night, Nurse" also stars both comedians and was thought lost until it resurfaced in fragmentary form in the late 1970s. Seeking refuge from a storm, Arbuckle befriends an organ grinder and a street dancer, taking them home with him. When his wife comes home, she assumes he has been staging a drunken party and rushes Arbuckle to the sanitarium to take the "liquor cure." Arbuckle is at the mercy of an overenthusiastic doctor (played by Keaton), who looks and acts more like a butcher. Arbuckle eventually escapes from the doctor only to get mixed up in the problems of a pretty patient.

Directed by Edward Cline, "The Playhouse" stars Keaton in every role, from stage actors, orchestra and audience. In the production, Keaton appears multiple times in each frame, which was truly a special effect in the 1920s. The film bounces from dream to reality, from optical illusion to confusion, all with a playhouse as a backdrop.