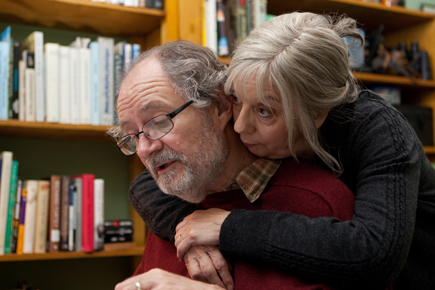 Director Mike Leigh's emotionally honest portrait of ordinary people "Another Year" and Sylvain Chomet's Oscar nominee "The Illusionist" open Feb. 4 at the Mary Riepma Ross Media Arts Center. Both films show through Feb. 17.

In "Another Year," British filmmaker Mike Leigh delivers another emotionally honest portrait of ordinary people trying to make sense of their lives. Ruth Sheen and Jim Broadbent star as a happily married couple, moving into their autumn years, surrounded by friends and family who are trying to find their own happiness. "Another Year" features a stand-out performance from Leslie Manville. The film has been nominated for an Academy Award for Best Original Screenplay.

The script for "The Illusionist" was originally written by French comedy genius and cinema legend Jacques Tati as a love letter from a father to his daughter, but was never produced. Sylvain Chomet, the Oscar-nominated and critically acclaimed creator of "The Triplets of Belleville," adapted the script and brought it to life in his distinctive hand-drawn animated style.

"The Illusionist" - an Oscar contender for Best Animated Feature - is a story about two paths that cross.

The illusionist is one of a dying breed of stage entertainers. With emerging rock stars stealing his thunder in the late 1950s, he is forced to accept increasingly obscure assignments in fringe theaters, at garden parties and in bars and cafes. Then, while performing in a village pub off the west coast of Scotland, he encounters Alice, an innocent young girl, who will change his life forever.

Watching his performance for the excited villagers who are celebrating the arrival of electricity on their remote island, Alice is awestruck by his show and believes his tricks are real magic. Though they do not speak the same language, the two lonely strangers quickly bond through small kindnesses.

Fascinated by the illusionist, Alice stows away on his departing ship and follows him to Edinburgh. There, they quickly fall into a father/daughter relationship, with Alice keeping their home at a boarding house for vaudevillians, while he goes to work in a small local theatre. Enchanted by her enthusiasm for his act, the illusionist rewards Alice with increasingly lavish gifts he has "conjured" into existence. Desperate not to disappoint her, he cannot bring himself to reveal that magic does not exist and that he's driving himself to ruin working all night jobs to buy her gifts.

As the illusionist grows older, Alice grows up. She falls in love with a young man and is no longer so enchanted by the illusionist's conjuring. She moves on with her life, and the illusionist no longer has to pretend. Untangled from his own web of deceit, he resumes his life as a much wiser man.

For more information about movies at the Ross, go to http://www.theross.org.
More details at: http://www.theross.org