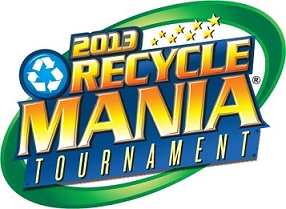 UNL will participate in RecycleMania for the fourth consecutive year. The program will run for eight weeks, from Feb. 3 to March 30.

RecycleMania is a friendly competition between universities and colleges across the United States and Canada to see which institution can reduce, reuse and recycle the most on-campus waste. The goal is to not only to increase recycling efforts, but also to raise awareness and increase education related to creating a more sustainable environment on campus.

More than 500 universities, including nine Big Ten schools, participated in the 2012 program.

Participating institutions are divided into two categories, competition and benchmark. UNL will participate in the competition division. In 2012, UNL finished 125th with a recycling rate of 29.5 percent and in the middle of both schools in the competition division and among Big Ten peers.

UNL's RecycleMania organizers have set a goal to improve the recycling rate to 40 percent during the 2013 competition.

Increased participation of faculty, staff and students is key to meeting the goal. UNL's recycling coordinators Prabhakar "Prabs" Shrestha and Jeff Henson said a "whole campus" approach is necessary to compete with the other Big Ten schools in the competition.

Shrestha and Henson said the School of Natural Resources' "File Fling" during RecycleMania 2012 is a good example of the extra effort needed. For "File Fling" Natural Resources placed 20 large recycling totes throughout Hardin Hall and encouraged faculty, staff and students to "indulge the urge to purge." The program resulted in more than a ton of paper, books and journals being recycled.

"We will work with anyone on campus that has an idea for RecycleMania and is interested in being a leader," said Shrestha.

For more information, go to http://recycling.unl.edu or contact Henson or Shrestha at 402-472-9139.