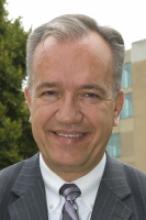 John W. Richmond, director of the School of Music, has been selected to join the editorial board of Arts Education Policy Review, a peer-reviewed journal published by Taylor & Francis. The post is a three-year appointment.

The board includes 12 members from the fine and performing arts across the country.

Richmond has been director of the School of Music since 2003. Prior to this appointment, he served as a professor and in various administrative capacities in the School of Music at the University of South Florida, Tampa.

Richmond's research focuses on arts education policy, legal issues in arts education, and the philosophy of music education. He is published in journals as the Journal of Research in Music Education, Research Perspectives in Music Education, Arts Education Policy Review (and its earlier incarnation — Design for Arts in Education), the International Journal of Music Education, the Journal of Aesthetic Education and the Choral Journal.