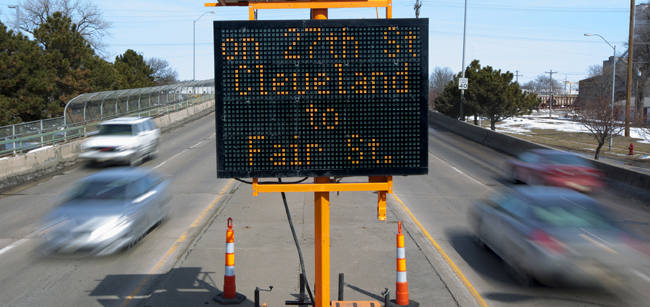 Repair work will begin Monday, March 18 on the North 27th Street viaduct over the Burlington Northern Santa Fe Railway tracks south of Cornhusker Highway.

The project is expected to cause traffic delays in the area, including for those driving to and from campus.

During the project, which is expected to be completed in August, traffic will be reduced to one lane in each direction on North 27th Street between Fair Street and Cleveland Avenue.

Drivers can expect delays and are urged to use alternate routes to and from University of Nebraska-Lincoln campuses. Suggested alternate routes are 33rd Street and Antelope Valley Parkway/14th Street.

The life of the bridge will be extended by the repairs, which will include the replacement of the concrete pavement approach sections that have deteriorated.

Work also will be done on its substructure, as well as bridge deck expansion joints and rails.

For more information on the project, go to http://lincoln.ne.gov (keyword: projects).