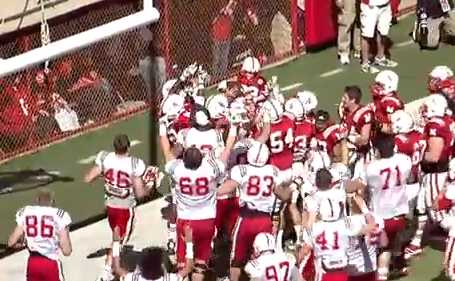 The Huskers.com video of 7-year-old Jack Hoffman's 69-yard touchdown run in Saturday's Red-White Spring Game was among YouTube's top trending videos this week, with more than 3.8 million views by early Tuesday.

Jack, a pediatric brain cancer patient, began his relationship with the Huskers through the Athletic Department's Life Skills program.

Midway through the fourth quarter, Jack, wearing the No. 22 jersey of his friend and former star Husker running back Rex Burkhead, took a handoff from quarterback Taylor Martinez. He jogged to his left before finding a hole in the defense along the right side and followed blockers into the end zone to the delight of both scrimmage squads and more than 60,000 fans in the stands.

In the days since, the run has been featured in more than 600 broadcast media outlets across the country, including ESPN's "SportsCenter" and ABC's "Good Morning America."

Read more about Jack and how his big run came about at Huskers.com: http://go.unl.edu/jwe.
More details at: http://go.unl.edu/67r