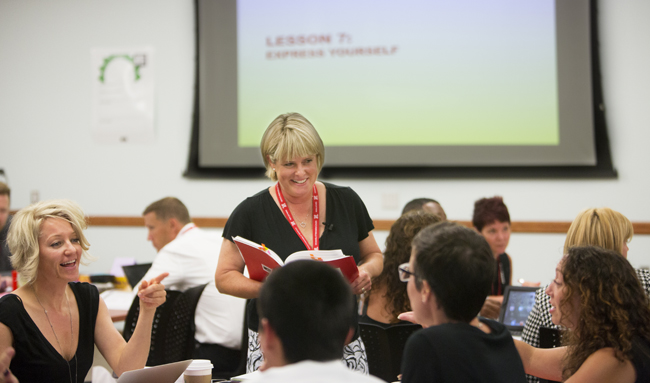 You might say the last few days have been N-Lightening ones on campus.

UNL school psychology professor Susan Swearer and others involved in her newly launched "Empowerment Initiative" have hosted more than 65 owners and directors of Paul Mitchell Schools from around the country this week. The two-day workshop rolled out a newly developed social-emotional curriculum – known as N-Lighten – in detail for the first time.

In 2012, Swearer received grant support from the Andrew Gomez Dream Foundation to collaborate with the Paul Mitchell network of cosmetology schools on the development of a curriculum targeting self-empowerment, anti-bullying and healthy relationships. The project was the catalyst for the founding earlier this year of the larger "Empowerment Initiative" through UNL's Nebraska Center for Research on Children, Youth, Families and Schools.

The N-Lighten curriculum focuses on self-empowerment and anti-bullying curriculum focused on supporting healthy social and emotional functioning.

 It combines evidence-based approaches derived from Swearer's and others' research with messages taken from "Be Nice (Or Else!)," a book authored by Winn Claybaugh, dean and co-founder of the Paul Mitchell Schools.



"I love the Paul Mitchell Schools' model of philanthropy and giving back to local communities," Swearer said. "It's exciting to create an empowerment curriculum for their schools and the outreach work in their communities."



As part of the collaboration, Paul Mitchell School owners and instructors are attending N-Lighten training workshops this week at UNL. These leaders will then spread the curriculum to their network of Paul Mitchell Schools, which collectively enrolls more than 16,000 cosmetology students.



The Paul Mitchell network also will distribute the N-Lighten lessons to high schools across the United States, offering service-learning opportunities to potentially hundreds of thousands of high school students.

Swearer co-wrote the N-Lighten curriculum with a group from NET. She and fellow UNL researchers also will study N-Lighten's impact on students' self-concept, self-esteem and problem behaviors such as bullying, substance abuse and risky behavior.


More details at: http://go.unl.edu/zim