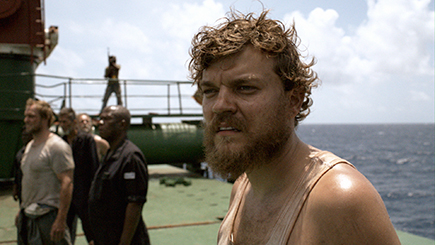 The thriller "A Hijacking" opens today at the Mary Riepma Ross Media Arts Center. Also showing for a second week is Joss Whedon's modern take on Shakespeare's "Much Ado About Nothing."

"Much Ado About Nothing" is rated PG-13, while "A Hijacking" is rated R. Both films play through Aug. 1.

In "A Hijacking," Somali pirates demand millions in ransom after seizing a Danish freighter in the Indian Ocean. From miles away, the shipping company CEO, Peter Ludvigsen (played by Soren Malling) receives word of the situation and attempts to take control of negotiations.

As days drag on into weeks, it becomes apparent that Ludvigsen is in over his head and the situation on the freighter turns volatile.

In "Much Ado About Nothing," Whedon gives Shakespeare's beloved battle-of-the-sexes comedy a contemporary makeover. The adaptation stars Amy Acker and Alexis Denisof.

In the wake of an eventful trip abroad, Claudio (Fran Kranz) and Benedick (Denisof) arrive safely back in their hometown of Messina, where Claudio wastes no time declaring his love for Hero (Jillian Morgese). Alas, when clever Benedick learns that his friend has poured his heart out to the daughter of powerful governor Leonato (Clark Gregg), he chides his old friend relentlessly over the syrupy assertion while engaging Leonato's outspoken niece Beatrice (Acker) in a series of spirited debates.

Meanwhile, somewhere amid all of the pointed insults and playful barbs, something that strangely resembles true love seems to blossom between Benedick and Beatrice. Nathan Fillion, Reed Diamond and Sean Maher co-star.

For more information, go to http://www.theross.org or call 402-472-5353.