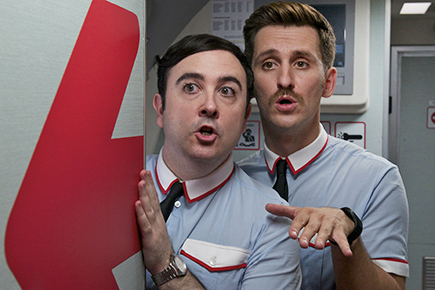 Pedro Almodovar's exuberant, outrageous "I'm So Excited!" and the cocktail documentary "Hey Bartender" open today at UNL's Mary Riepma Ross Media Arts Center.

"I'm So Excited!" is rated R. "Hey Bartender" is not rated. Both films play through Aug. 8.

In "I'm So Excited!", passengers and crew of an airliner bound for Mexico City find their lives in jeopardy because of a technical failure, and experience a collective catharsis that helps to ward off the specter of death. The comedy is written and directed by Pedro Almodovar. Upon learning of the problem, the pilots of Flight 2549 begin working with their colleagues on the ground to find a solution.

Meanwhile, the flamboyant flight attendants and their chief steward work overtime to distract the concerned passengers of business class from the mad scramble to land the plane safely.

The documentary "Hey Bartender!" focuses on two bartenders trying to achieve their dreams through the world of bartending. After being injured a Marine turns his goals to becoming a rock star bartender at the best cocktail bar in the world. A former bank executive who bought the corner bar in his hometown struggles to keep it afloat in a community that no longer values a place where everyone knows your name.

The film features the most famous bartenders in the world along with unprecedented access to the most exclusive bars in New York City and commentary from Graydon Carter, Danny Meyer and Amy Sacco.
More details at: http://www.theross.org